70 Fun & Unusual Things to Do in San Diego
May 26, 2022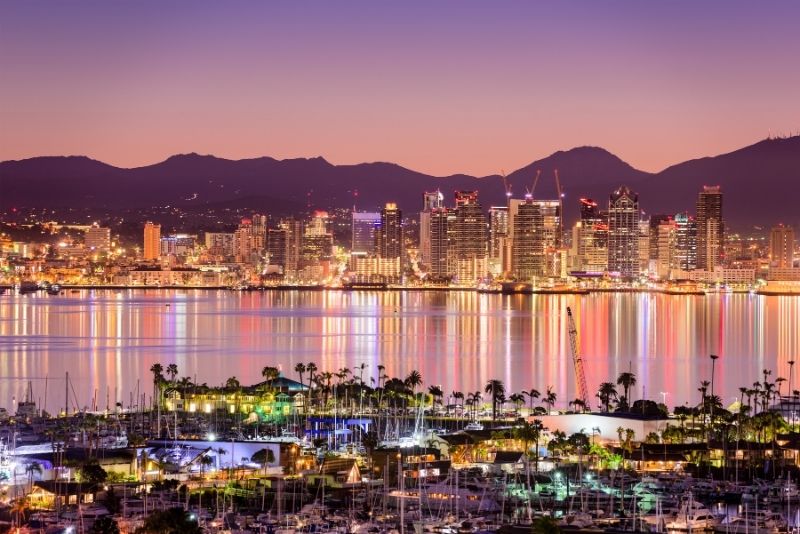 Showcasing world-class beaches, craft breweries, theme parks, intriguing museums and some of the best Mexican cuisines on this side of the border, San Diego is jam-packed with fun things to do.
From great outdoor activities to spectacular nightlife and sophisticated cultural experiences, this Southern Californian city has it all!
All you need to worry about is which of the near-endless fun and unusual things to do in San Diego you can tick off the bucket list first.
Ready to explore all the best bits San Diego has to offer? Read on!
1 – See whales up close like never before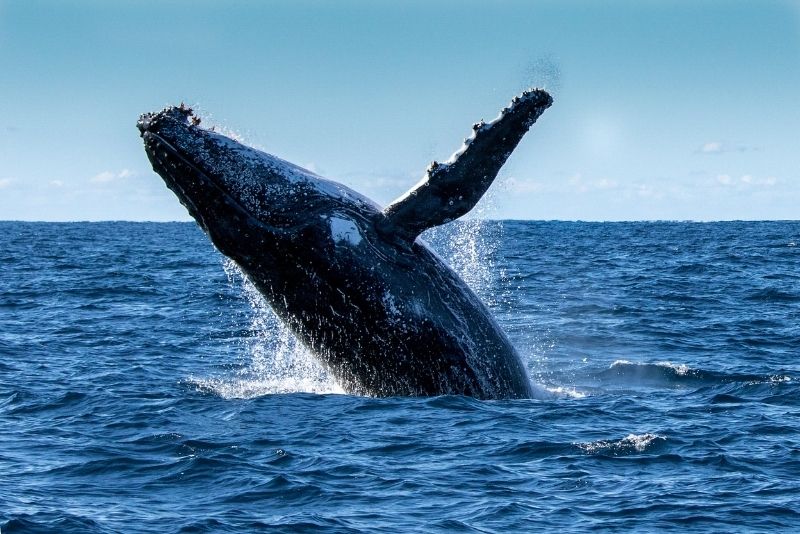 Do you want to see how small you are next to the largest animal known to live on the planet? While in sunny San Diego, make sure to seize the opportunity of taking a whale-watching boat tour.
Thousands of whales migrate to the coast of San Diego all year round — during their breeding season in winter and spring, and feeding period in summer and fall.
Get the best sightings on a boat trip with the expert crew to follow the migratory patterns. Learn from your experienced guide about these amazing marine creatures and their environment.
Admiring these gentle giants off of California's beautiful coast — not to mention the pods of graceful dolphins skirting around — promises to be nothing short of unforgettable.
Enjoy the scenery and ocean breeze throughout the cruise, as you also see dolphins and sea lions, among other marine wildlife.
2 – Soar over Temecula's wineries in a hot air balloon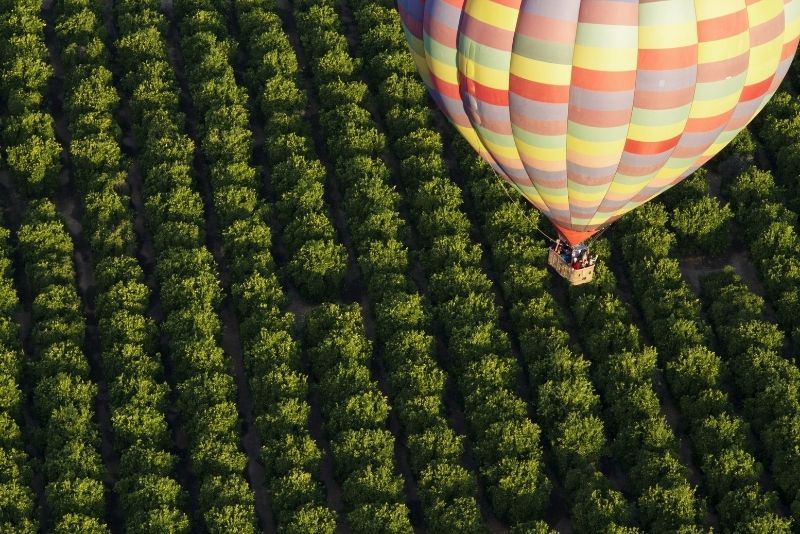 Experience serenity and peacefulness while soaring over the beautiful vineyards of Temecula in a hot air balloon tour with Compass Balloons — an adventure that delivers excitement and relaxation in spades.
Take your special moments and surprises in the sky, as the company caters to birthdays, weddings and anniversaries. Whether it's your first-time or once-in-a-lifetime ride, it can surely be an unforgettable experience of your life.
Whether you're aiming for adventure or romance (or both like some couples got married on a hot air balloon), this tour takes you 2,000 feet above the ground — so you can get a bird's-eye fantastic view of the Pacific coastline and Southern California scenery.
This is one of the most magical and surreal ways to admire the San Diego region, especially at twilight! Glimpse the rows of beautiful vineyards at Temecula Valley Wine Country and the charming landscape of Old Temecula Town.
3 – Sail across beautiful San Diego Bay at sunset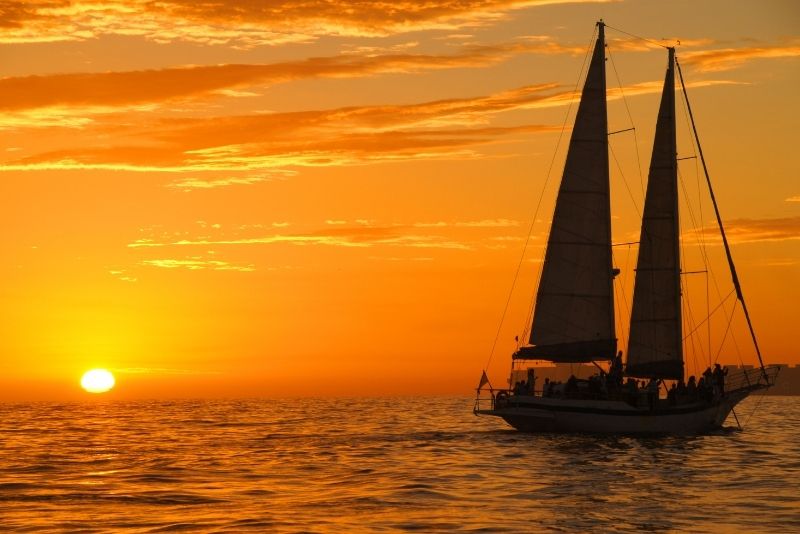 If you've already seen San Diego's sites on foot, then opt for an alternative (and arguably more impressive) perspective of the city with a romantic sunset sailing cruise.
As you glide along the waters of San Diego Bay and admire the sunset over one of Californian's most beautiful cities, the sparks are sure to fly.
Tours usually take three hours with delicious food and drinks, so you can simply enjoy the sunset and have the best experience in San Diego. Aside from serving exquisite dinner, some cruises offer locally-made craft beer tastings.
Walk on the deck and relish the sights from the ocean's perspective, as you cruise away from the natural harbor. Spot the city's landmarks like the Coronado Bridge, USS Midway Museum, North Island Naval Air Station and Point Loma Submarine Base.
As you sail, you also have the opportunity to see marine wildlife like dolphins and sea lions. Ask your captain or crew about these friendly creatures and know a bit about their ecosystems. All that surely can make your sailing trip worthwhile!
4 – Taste local cuisine at Liberty Public Market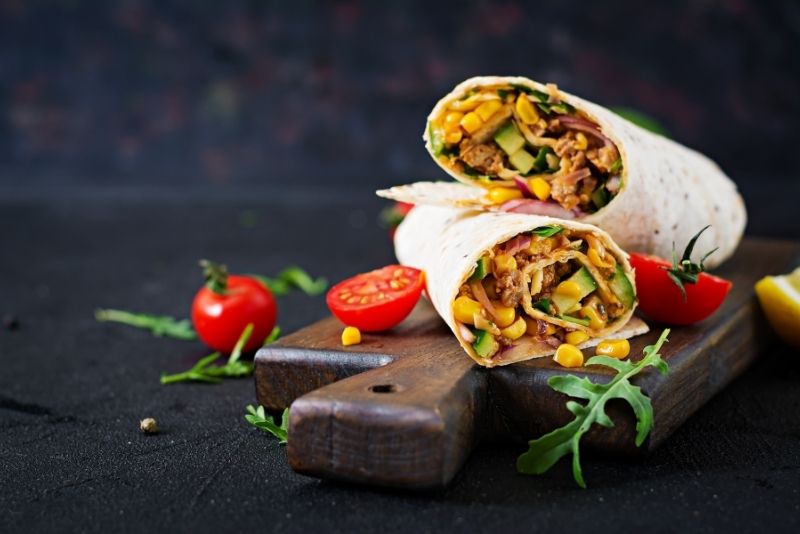 Just one visit to Liberty Public Market and you'll be hooked. Hungry visitors regularly enjoy the vast range of authentic cuisines — no matter your craving, you'll walk away more than satisfied.
Located within the Arts District of Liberty Station and featuring more than 30 independently-run food stalls, this is where all the best San Diego cuisines come together under one roof.
Open seven days a week, the market has showcased the best works of artisans, attracting many visitors and local patrons since its establishment in 2016.
Coming here is like traveling the world, as you try famous delicacies from different cultures using local ingredients. You have a selection of Asian favorites such as Korean barbecue toppings, Bangkok-style stir-fried noodles, Japanese ramen and Filipino rice bowls.
Of course, you won't skip the Mexican tacos with handmade tortillas and Argentinian empanadas, as well as the Peruvian and Belgian traditional dishes.
5 – Spend a day exploring the award-winning San Diego Zoo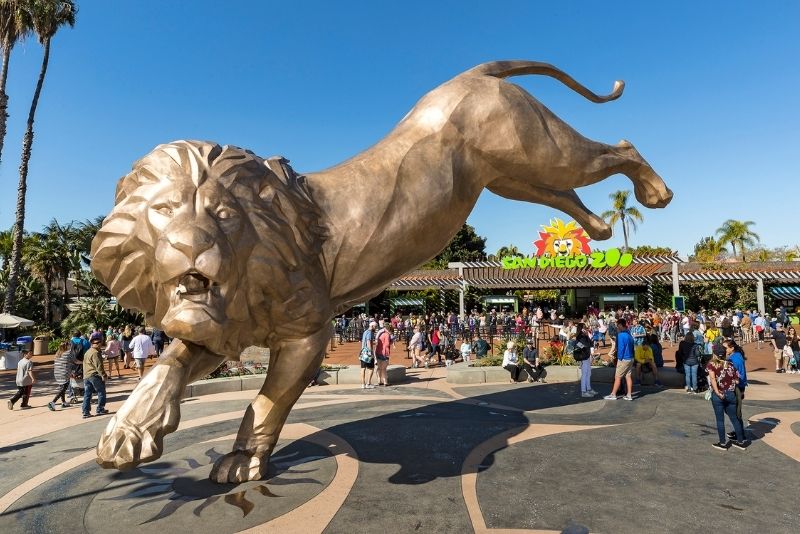 A visit to the San Diego zoo is a fun day out for adults and children alike!
Discover thousands of wild animals including lions, koalas, pandas, elephants, polar bears and more. Take a ride on the Skyfari aerial tram and admire animals in a thoughtfully-built and landscaped environment.
Keep an eye out for Ron Burgundy too.
Grab your camera and see up close rare cats in action, leaping, climbing and interacting with each other. Learn about their behaviors and hear some insider stories from a wildlife specialist onsite.
With this experience, you're not only meeting and getting to know a new wild animal friend but also helping save their lives. It's part of the zoo's campaign to protect and conserve the endangered animal species in the country and around the world.
If you want to learn more about the conservation efforts of the zoo, hop on an hour-long expedition riding a discovery cart. Listen to your guide's narration and insights, as you explore the animals and plants in the area. It's an ideal tour for the whole family!
6 – Go on a thrilling jet boat adventure across San Diego Bay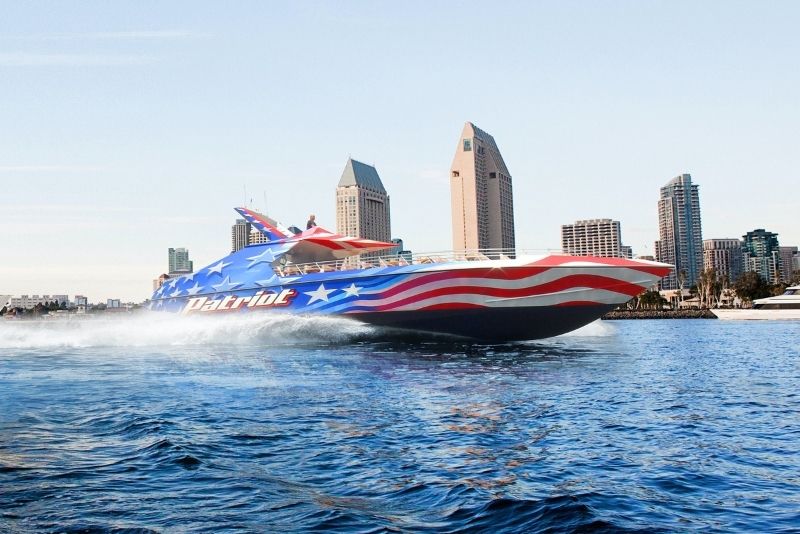 Looking to get your heart racing?
Escape the crowds and zoom around San Diego Bay on a jet boat ride — the thrills will be aplenty and the views will be next-level!
From the warm waters, a number of the city's most famous landmarks are visible, notably the USS Midway Museum and Coronado Island.
The only jet boat ride in San Diego, Patriot Jet Boat has powerful engines making it capable of 360-degree spins and a maximum speed of 50 miles per hour. See if you can hold yourself from screaming!
On this windy ride with high-speed turns, you definitely need to tighten your grip. Maneuvering this open-air jet boat is a skilled captain who knows how to please thrill-seekers.
7 – Loop, roll and zip your way across the San Diego skies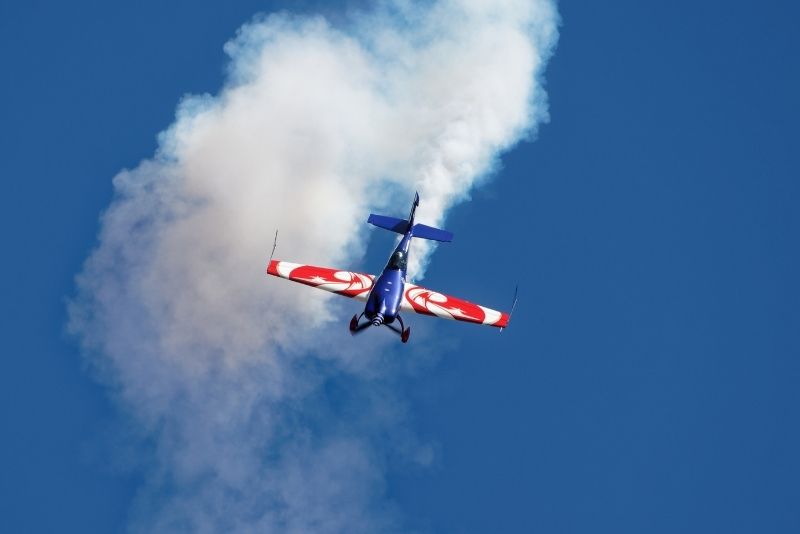 San Diego Sky Tours offers aerobatic flights for everyone ranging from beginner fliers to expert pilots — no matter your experience level in the sky, with a seasoned pilot by your side, it promises to be an exhilarating experience like no other.
Besides the barrel roles and loop-the-loops, the views of San Diego's famed coastline from up high are second to none.
Ride a biplane with real military pilots on an air combat experience, a premium tour you will treasure in San Diego. The service also includes pick up from any locations you want.
Imagine being alive during the war times and you're one of the pilots, targeting another plane to take down. If that doesn't excite you enough, imagine dodging an expected shot from that plane.
This is when the swiveling, turning at 360 degrees and flying upside down get more real and super thrilling!
8 – Explore San Diego, GoCar-style!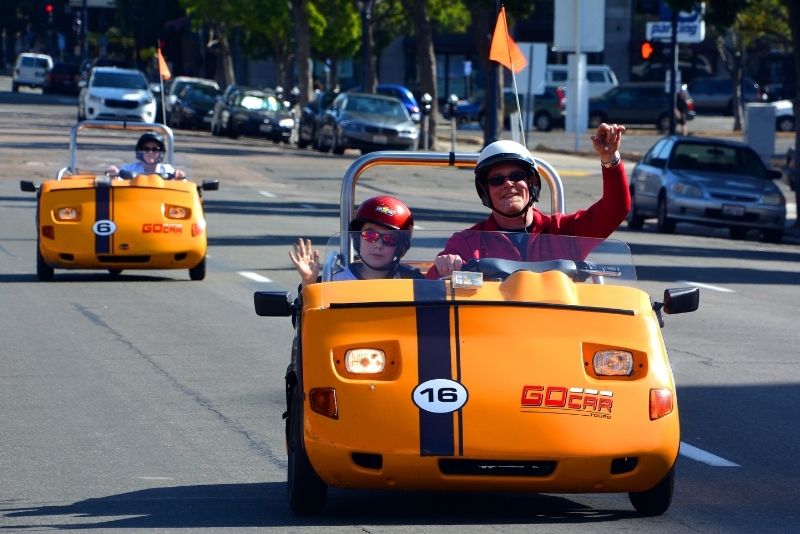 Hop into the world's first GPS-guided car and discover San Diego's finest landmarks at your own pace in what is legitimately one of the city's most unique transport options.
Relieve the good old days while driving these vintage military-style cars — but with a modern twist. These vehicles have three wheels and two seats, running with a scooter engine (so it is considered a motorcycle in the registration).
It's easy and fun to drive, plus you won't get lost with the GPS system. Not only that it tells you how to drive and where to go, but also narrates some facts and stories about the places.
Start with a cruise through the historic Gaslamp Quarter, then ramble around the beautiful Balboa Park. Top it all off by feeling like you've traveled back in time with a drive through Old Town.
9 – Immerse yourself in a world of wonder at the Fleet Science Center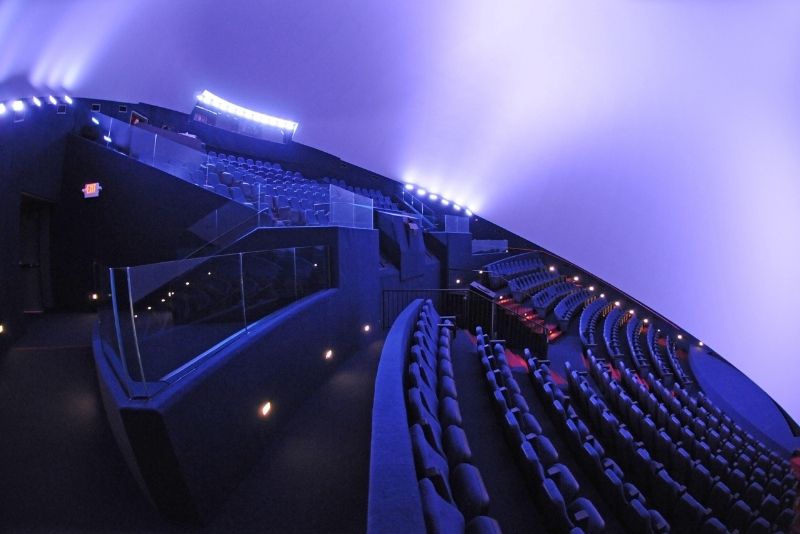 A family-friendly venue that's always growing in popularity, the Fleet Science Center is the perfect place to investigate all kinds of exciting science.
Conveniently situated in Balboa Park, the center sports a hands-on science museum, as well as the world's first IMAX Dome, combining serious learning with interactive fun.
With over 100 interactive displays, the Fleet takes you to a new perspective on the wonders of science — from within the human body to outer space.
Experiments at the "It's Electric" where you can try being a human battery. This hands-on experience teaches visitors how to charge electricity and how it works.
Discover fascinating facts and have fun at the "Sun, Earth, Universe" exhibit. Satisfy your curiosity with this 500-square-foot NASA exhibition and get answers to some of your "out of this world" questions. Is there life outside our planet? What's it like on Mars?
10 – Sign up for a truly unique Segway experience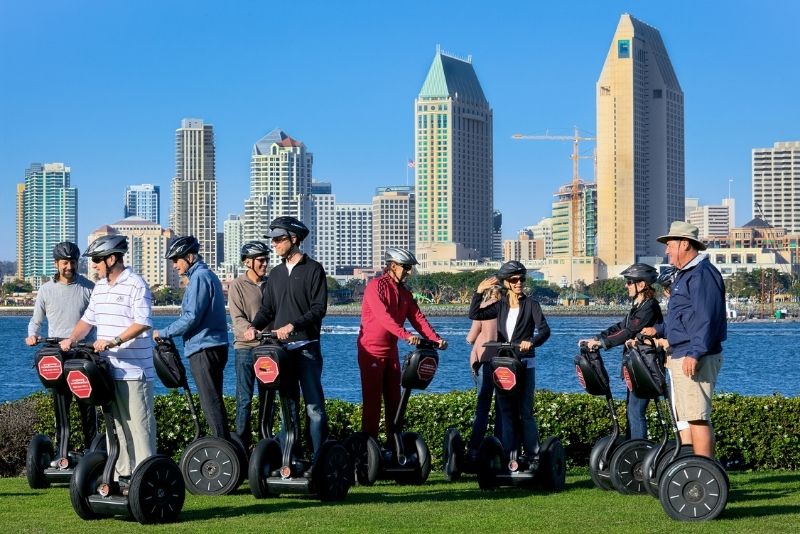 Zoom past all of San Diego's most notorious landmarks on a Segway tour — with plenty of photo opportunities along the way, of course.
Thanks to the simple operating systems, riders can navigate effortlessly through the streets while learning all kinds of cultural tidbits and historic fun facts about the city from the professional guide.
Cruise through the 1,200-acre Balboa Park where you encounter nature and culture. Amid the greenery and wonderful architecture, you can find over 17 museums featuring various subjects such as dinosaurs, automobiles, orchids and photography.
Swing by the Spanish Village Art Center, with a charming courtyard surrounded by classic Spanish buildings now functioning as art studios. With more than 200 local artists, the village has become ever more colorful and vibrant, making it a perfect destination for art lovers.
On a Segway, you can pass by more places in a few hours. Make sure to drop by the Grant Parker Memorial Rose Garden and Old Globe Theatre, or glide towards the Gaslamp Quarter and enjoy the waterfront views and Seaport Village.
11 – Experience the best of beach life at Coronado Beach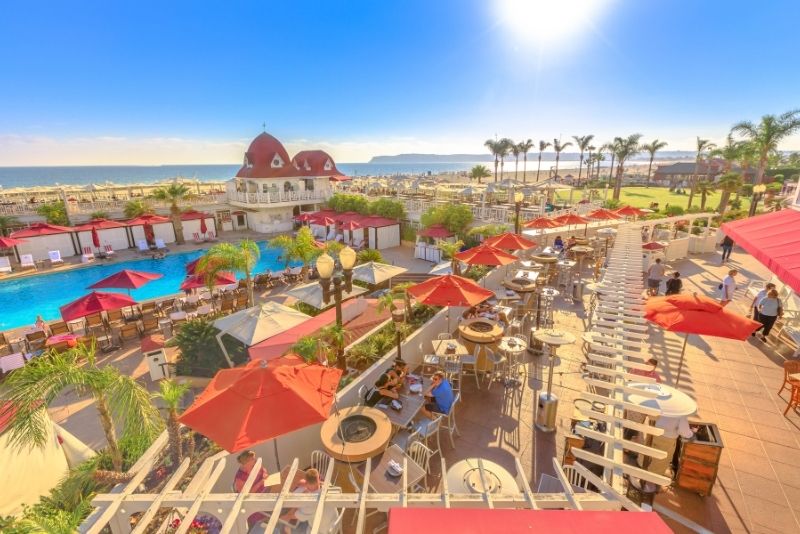 Home of the famous Hotel Del Coronado and regularly voted as the best strip of sand in the USA, Coronado Beach is as picturesque and vibrant as any.
In addition to world-class spas, fun surf camps, and awesome outdoor activities, Coronado Beach also plays host to a range of amazing beachfront events all year long.
This 1.5-mile long sandy beach serves as a haven for those who enjoy sunbathing, swimming and surfing — as well as skimboarding because the beach is flat. It's perfect for families to spend the whole day here, with lifeguards available all the time.
Aside from the dazzling sea, you have views of Point Loma and the iconic Hotel del Coronado. For cooling and relaxing time, you have the Coronado Star Park and Sunset Park, which is near Dog Beach.
Perfect for our furry friends, the beach is dog-friendly, as well as many hotels and restaurants in the area. You've got everyone and everything you need, so you can easily stay here for more than a day!
12 – Have a good laugh at one of San Diego's Comedy Clubs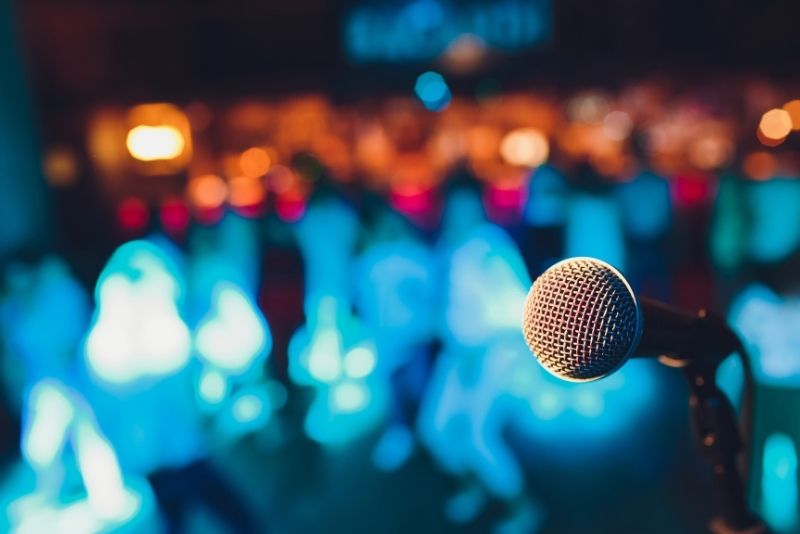 Hosting from emerging comedians to established artists and every funnyman in between, San Diego's comedy scene is serious business.
It's common knowledge that San Diego has some of the best comedy clubs in the United States.
Located in the famous Gaslamp Quarter, locally owned American Comedy Co. showcases stand-up comedians who are hailed nationwide, including Bobby Lee and Kevin Nealon. Also a restaurant, the club offers all-time favorites such as hamburgers and salads.
If you're looking for an improv comedy show, head to National Comedy Theatre where you can suggest what the cast will perform. One of the fun interactive performances there is, this is the longest-running show in San Diego to date.
For the best laughs in a mix of comedy shows and boxing events, visit the Comedy Club at Pechanga. Sycuan Casino Resort hosts comedy events at Live & Up Close so check out its calendar to catch some of the most hilarious performances.
Make sure to check an offshoot of the original club in Hollywood, The Comedy Store La Jolla, which brings professional comedians straight from Los Angeles and the best of San Diego.
You'll be spoiled for choice when it comes to a hilarious night out.
13 – Go on a deep-sea fishing trip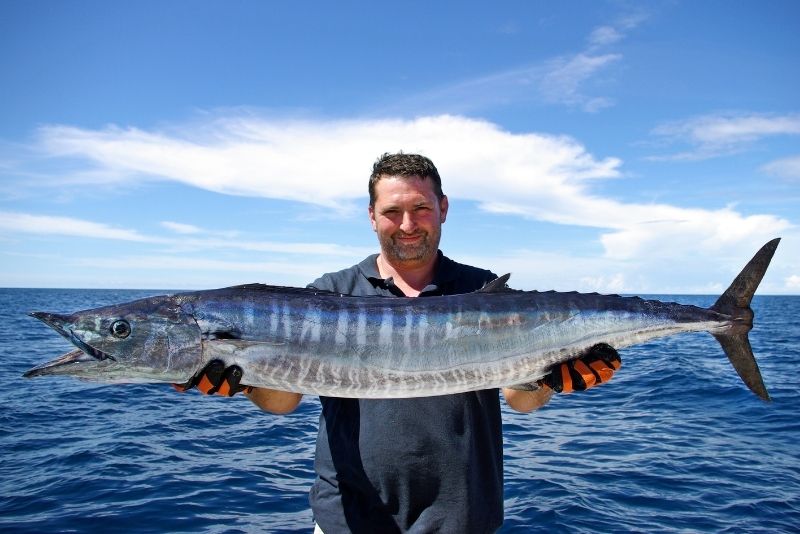 Enjoy a deep-sea fishing trip off the coast of San Diego.
Whether you're tagging along with your friends or family, or simply heading out to sea solo in search of a big catch, a fantastic fishing trip on a wonderful boat with an expert crew is always a good time.
Hop on an adventure on world-class fishing trips under the California sun and get the most of what nature has to offer. You've come to the right place for deep-sea fishing, as San Diego is home to the world's largest vessels for sport fishing.
Choose from half-day, full-day or multiple-day trips, depending on how much time you want to spend in the ocean for your biggest catch. If you're a first-timer, there's so much to discover in this sport, from the tools you need and the techniques to learn.
Whether you're here for a serious catch or simply enjoying the experience, especially the privilege of being in the middle of an expansive sea, going on a deep fishing trip makes a remarkable day out.
14 – Plan a quick trip to Tijuana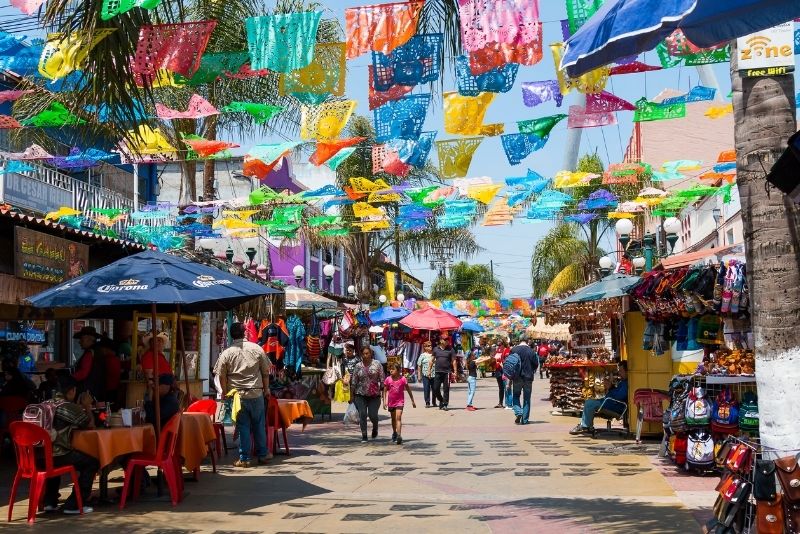 Sitting just 20 miles south of San Diego, Tijuana — where the border sits between the US and Mexico — is always an easy, exciting place to go for a day trip.
After crossing the border, make a beeline for Avenida Revolución, discover its unique culinary and craft beer scenes, and don't forget to admire the city's amazing urban art street.
Stroll along with the 550-foot-long Pasaje Rodriguez, a trendy alley full of murals, artsy cafes and bars, and quaint shops. Don't skip the tequila tasting, not only to taste the authentic versions but also to learn how Mexicans drink it.
Tijuana is more than just a party town, it's also a cultural retreat with fun-filled activities. Head to Centro Cultural Tijuana where you can find the IMAX Dome, a museum and exhibition rooms, as well as an aquarium, among other facilities.
15 – Kayak around La Jolla Underwater Park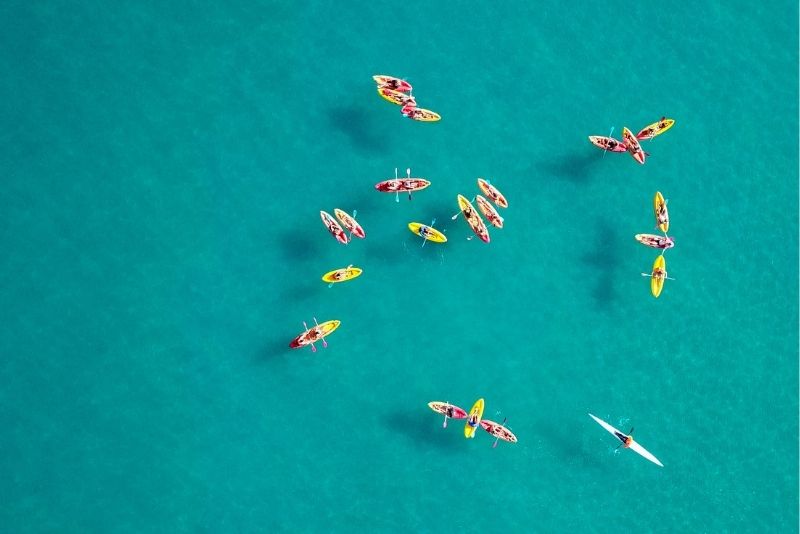 With warm, crystal-clear waters, a kayak trip out to the best snorkeling spots promises an array of local wildlife, including blubbery sea lions and adorable sea turtles.
Enjoy paddling across the 533-acre of La Jolla Underwater Park which is allowed for kayaking, snorkeling and diving, among other watersports.
The ecological reserve comprises a total of 6,000 acres, but most of it is protected from human intervention so that marine wildlife, including sea lions and seals, are safe in their habitats. Make sure you know where the line ends.
While you treasure moments walking along the shores or sunbathing, keep in mind to prioritize preserving this nature's gift and avoid picking up anything that belongs there (such as shells, plants, corals, etc.).
Spending time being surrounded by the turquoise water — and the precious sea creatures and plants — is more than enough to have a memorable vacation.
16 – Relax on a harbor sightseeing cruise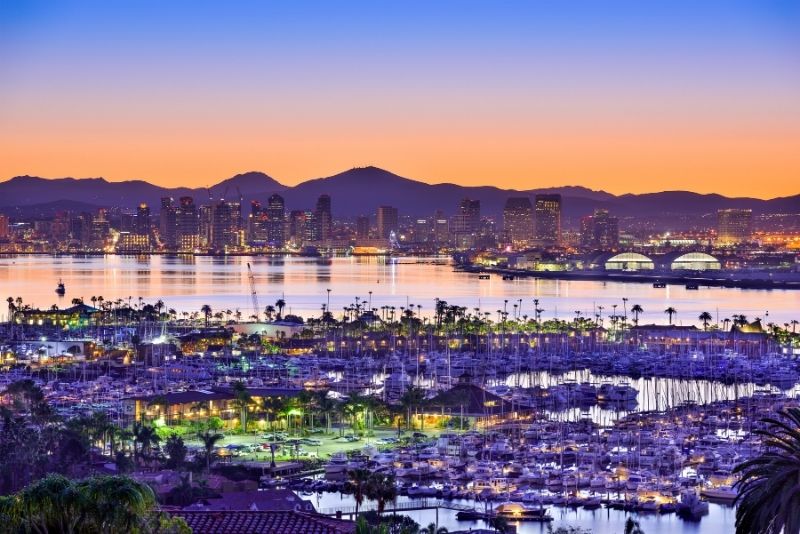 You haven't quite visited the city quite without enjoying the sea, which makes a boat tour one of the essential things to do in San Diego. Having a natural harbor is one thing that sets it apart from all other destinations in sunny California.
Jump on a sensational cruise and marvel at the multi-million dollar views from the bay. Opt for a sightseeing cruise or sign up for a romantic dinner cruise if you want to kindle the romance — and see San Diego's finest landmarks from the water, bubbly in hand.
Cherishing all the beautiful scenery is a must-do while you're here, as you learn interesting facts and local stories about landmarks from the experienced crew.
Spot historic warships, the USS San Diego and the USS Midway, as well as the Naval Base San Diego, one of the nation's largest surface ship bases.
Watch sea lions dive into the water from the barges, as this sailing trip is also an ecological adventure. You're also here to admire the natural habitats of marine wildlife on this side of the world.
17 – Feel the thrill of indoor skydiving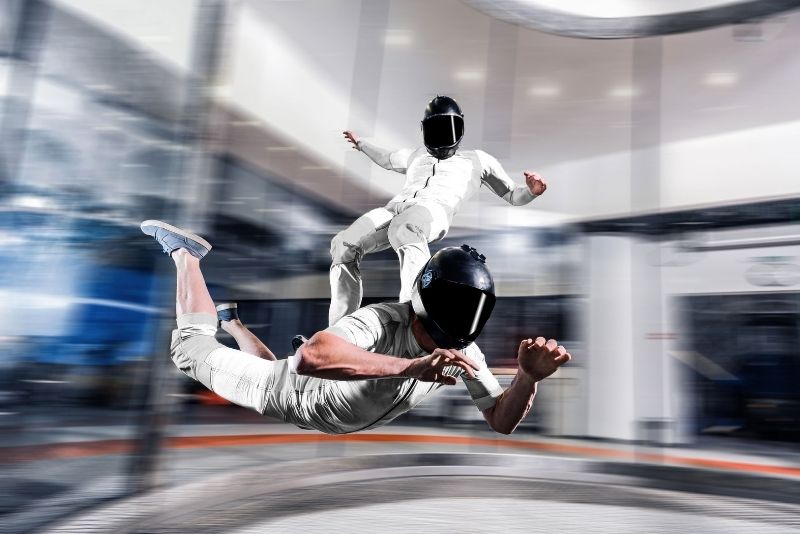 Always wanted to feel the thrill of skydiving but never had the guts to actually jump from a plane? iFly San Diego at Mission Valley is the solution we've all been waiting for!
One session here and you'll experience the genuine adrenaline rush of skydiving without the fright of an actual freefall.
Whether you're planning to do actual skydiving, you're going to learn how to maneuver your body to float in the air through the wind tunnel — imagine as you speed down to earth at a speed of over 280 kilometers per hour.
Train in a small group with an accredited instructor and you're flying multiple times on your own in no time. With iFly, you can bring home a certificate that you indeed know how to safely freefall from the sky.
It's one of the most thrilling things to do in San Diego, and you don't even need to leave the ground.
18 – Experience life at sea by visiting the USS Midway Museum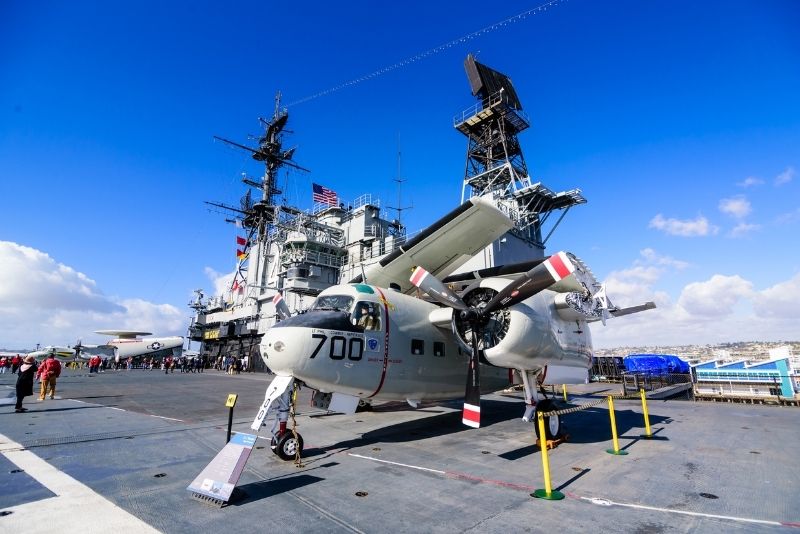 Discover the most visited floating ship museum in the country and immerse yourself in over 50 years of world history at the same time!
With over 60 exhibits, a range of short films that give you the chance to relive historic war moments and hyper-realistic flight simulators, there's something for everyone on the USS Midway.
Discover how it works in front of a helicopter and experience what it's like to actually be there at the Flight Deck exhibits. See pilot-ready rooms to understand what happens in carrier aviation.
Check out just underneath the flight deck where the captain lives and commands the aircraft. Experience an interactive exhibit that shows how an optical landing system works to guide pilots to land safely.
There's also the below deck exhibits which feature where the crew dine, socialize, pray and get dental checkups — and, of course, how they work at the engine room.
19 – Ride horses along Imperial Beach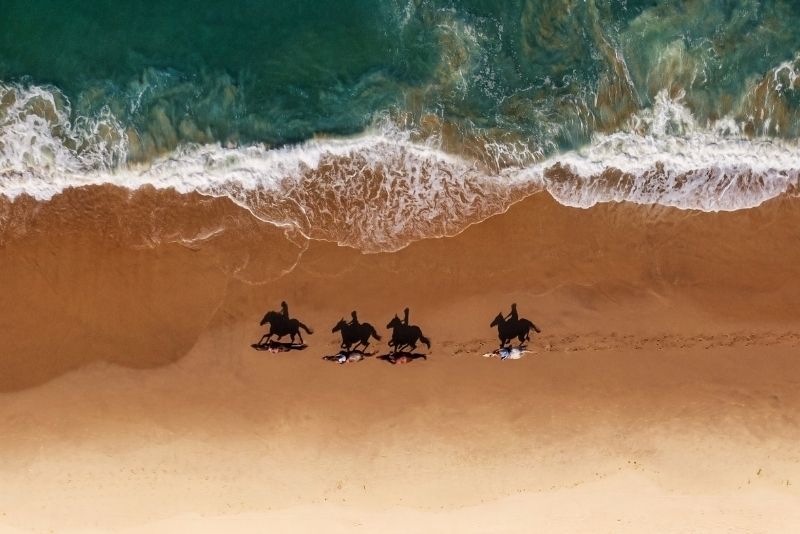 Have you ever wanted to ride a horse on a beach?
Pony Land offers a unique and fun horseback riding experience that fits visitors of all ages — it's the perfect family-friendly activity.
The rides take place on Imperial Beach on the southern end of the city, the only place in San Diego that allows horseback riding on the beach.
Feel the serenity of the wonderful Tijuana River County Open Space Reserve situated 15 minutes drive from Downtown San Diego. It's an ideal way to rest your mind and revitalize, as you have an expert to guide you all through the 22.5-mile trail.
Aside from the calm beach, you can also explore the greenery and spot some wildlife along the way. This nature preserve in San Diego covers over 1,800 acres of forests and coastal ecosystems connecting natural habitats along the river valley.
20 – Come and cheer at Petco Park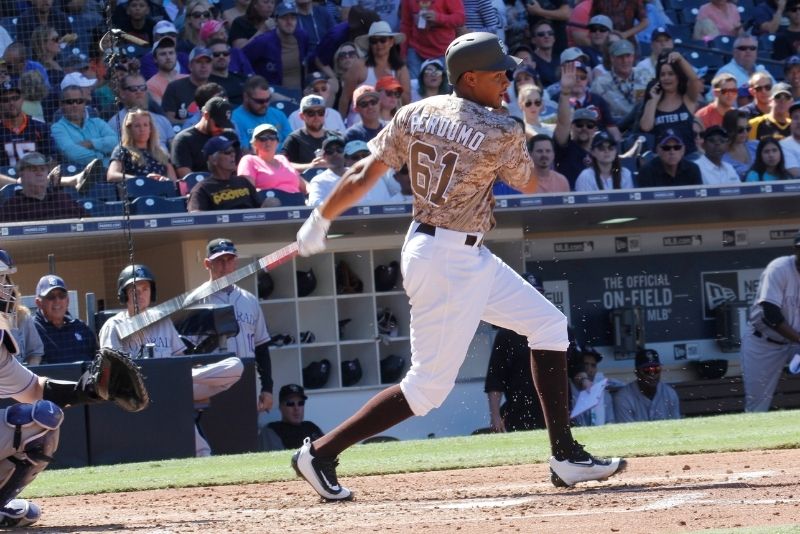 Sports fans, this one's for you! Head to Petco Park, home to the San Diego Padres baseball team, and soak in the unique atmosphere of an MBL game.
Petco Park is regarded as one of the nation's more impressive venues, offering some of the best sight lines in baseball thanks to the stunning San Diego skyline backdrop.
Visiting the park is a fantastic day out, as you relish the views of the city. Admire its designs highlighting the baseball traditions, with cutting-edge facilities to serve every sports fan.
Tour one of the top ballparks in the country, checking out areas exclusive for players and crew. Get behind-the-scenes access and historical insights about the ballpark, as you explore the field warning track, private luxury suite and press box.
A visit to the Padres Hall of Fame and Breitbard Hall of Fame is included in the tour package.
21 – Spend an afternoon at the Natural History Museum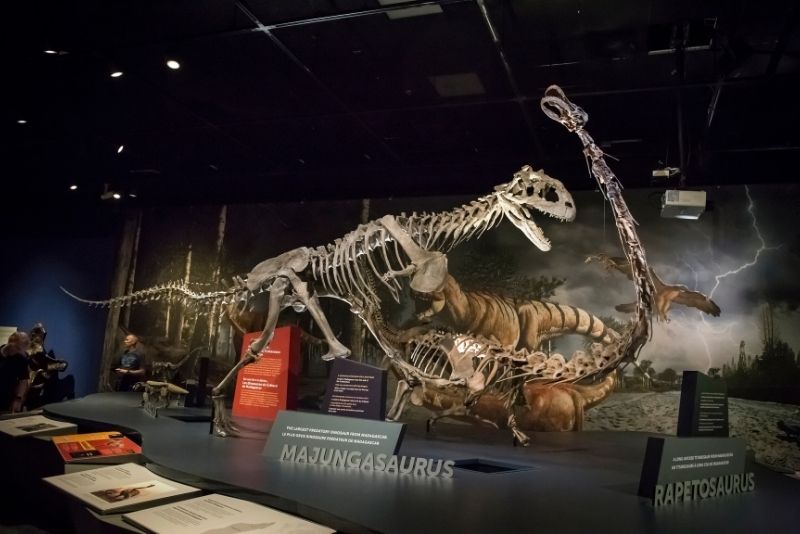 Journey through time at the San Diego Natural History Museum and learn how life on Earth has evolved through the centuries.
Home to a variety of intriguing exhibits, the museum is a great place to learn about nature and the environment of not only California but the entire history of civilization.
Founded by a group of naturalists studying Southern California's plants and animals in the 1800s, the museum has hosted hundreds of thousands of visitors every year.
It has catered to educational programs related to the environment and dedicated its efforts to support the research of the natural diversity in the region, including Baja California.
Walk through the period of dinosaurs that once stepped foot on this part of the continent to the Ice Age, spanning 75 million years, at the Fossil Mysteries exhibition.
This ongoing interactive display showcases fossils, murals, models and dioramas to visualize, not only the prehistoric time of the region — but also to gain a new perspective on the world.
22 – Tackle the fairways at Torrey Pines Golf Course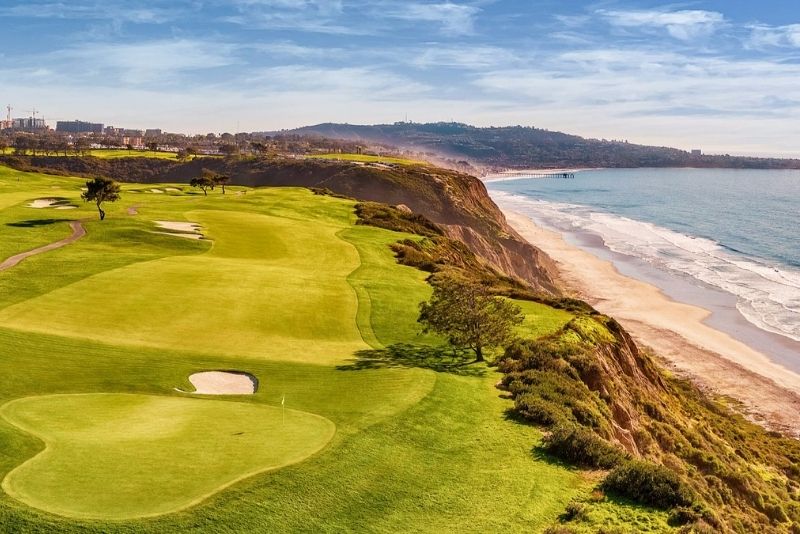 Situated 20 minutes from San Diego downtown, Torrey Pines Golf Course is a 36-hole municipal public course renowned nationwide for its spectacular oceanfront setting.
It's not all about the views though — besides the ocean breeze, the course is noted for its highly challenging gameplay.
Known as one of the premier golf destinations in the US, this municipal course has hosted the Farmers Insurance Open every year, as well as the US Open in 2008 and 2021.
The course offers an opportunity to test your skills with its length, tight fairways and lush rough. It also provides top-quality amenities such as a driving range, practice putting greens, carts for food and drinks, as well as a restaurant.
With the beautiful views and weather, plus everything you need as a player or spectator, this place is a must-visit while in San Diego.
23 – Go behind the scenes of an authentic San Diego brewery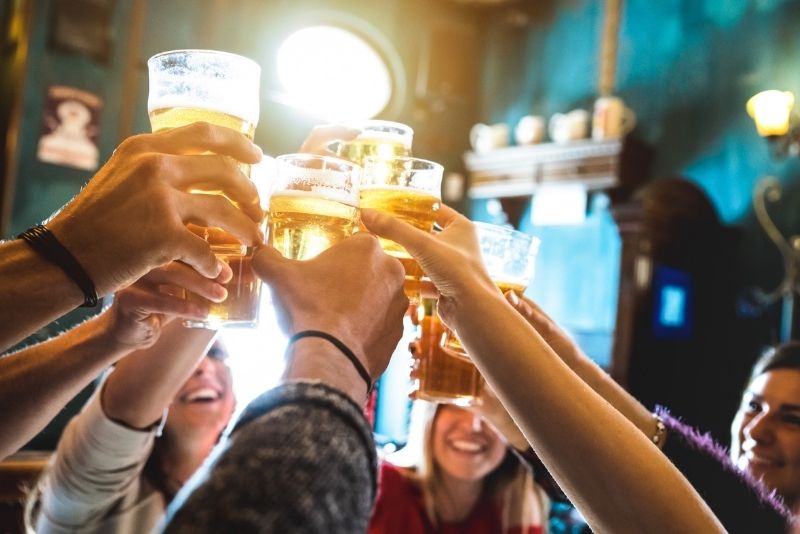 Are you a beer lover? Then we've got the activity for you! With new microbreweries popping up every year, San Diego is sure to quench any thirst.
On a locally-led beer tour, learn all about the brewing process and the ingredients used to create delicious drinks — and, of course, sample some of the city's most famous brews along the way.
Join a small group of up to 10 people and explore the craft beers available in the city. Some tours provide an open-air car with a friendly driver and a craft beer enthusiast to take you around town and stop by at least three local-favorite bars.
While you get a free 4-ounce taster for every bar, get yourself a pint with discounts offered exclusively for tours.
One of the amazing breweries to check out is Ballast Point Brewing Company which has three locations in San Diego: Little Italy, Miramar and Home Brew Mart. Make sure to try its famous award-winning Sculpin IPA.
Other popular breweries to consider are Stone Brewing World Bistro & Gardens Liberty Station, Societe Brewing Company, and AleSmith Brewing Company.
24 – Make a splash in San Diego Bay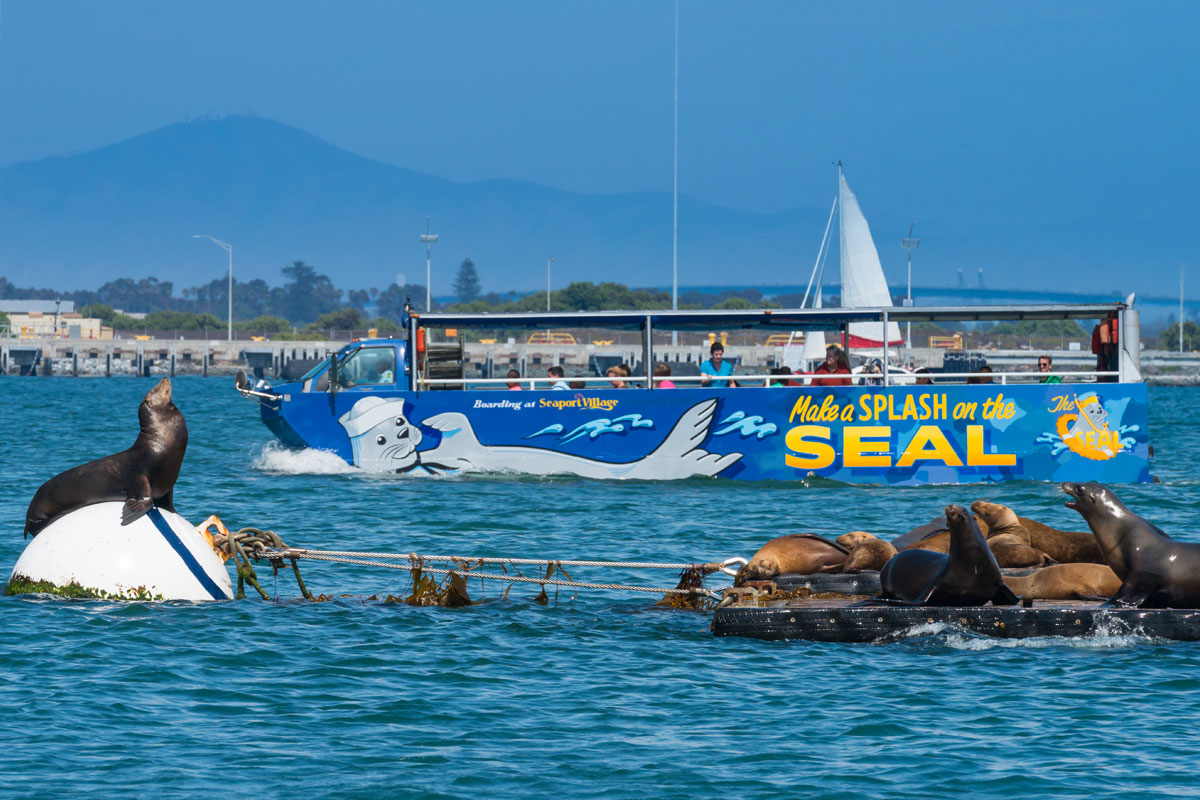 Explore San Diego by land and sea without leaving the comfort of your own seat!
Hop on this tour amphibious bus — a hybrid between a bus and a boat. Enjoy delightful sightseeing around the city, as you drive towards the harbor, and splash your way straight to the bay.
In this 90-minute adventure, learn interesting facts about San Diego's history, landmarks, natural wonders, including the seals that you're going to meet up close.
Enjoying the best of both worlds experience, visitors zoom past a range of the top San Diego attractions on route to San Diego Bay's Shelter Island where friendly dolphins and sea lions lurk.
25 – Fall in love with the Mexican cuisine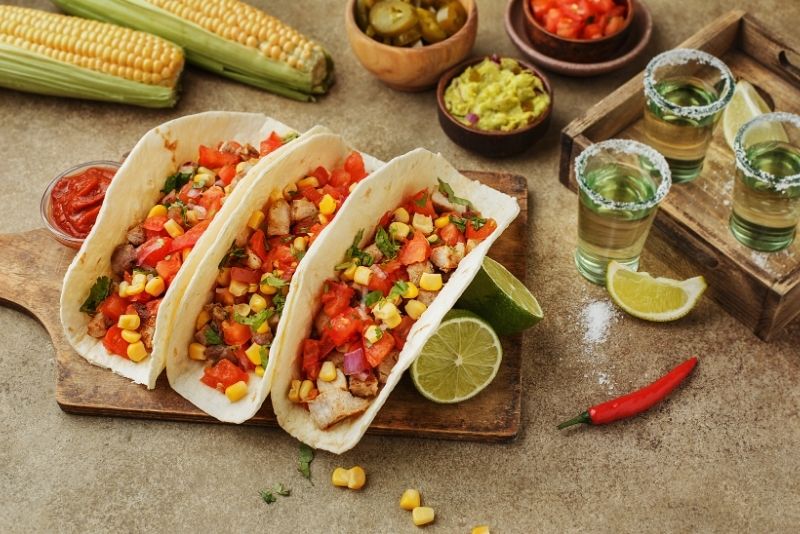 Are you a real foodie? Whether you're a hard shell or soft shell kind of person, the Mexican food in San Diego is nothing short of exquisite.
Explore the Old Town and get a taste of the south in San Diego's most historic neighborhood. Sample some authentic Mexican dishes and taste a vast selection of tequilas, all as part of a captivating Old Town walking tour.
If you're looking for handmade tortillas and more, try the authentic dishes at Old Town Mexican Cafe. Opened in the 1970s, this restaurant has served street tacos with carne asada, pollo asado, carnitas or adobada fillings to choose from. Try its original house specialty carnitas and guacamole served fresh every day.
With a festive facade in the charming Old Town, Casa Guadalajara champions serving soft tacos with fajitas and grilled vegetables on a sizzling platter. Prepare to be serenaded by its Mariachi band, while you enjoy sipping its special margaritas.
Speaking of margaritas, why not try drinking straight tequila? To get to know this agave plant spirit named after a small town in Mexico, head to Cafe Coyote, an icon of San Diego's Old Town which has been open since 1989.
Here you can taste all tequila flavors — Blanco (white or silver), gold, reposado (rested) and añejo (aged).
26 – Let the good times roll with a cycle bar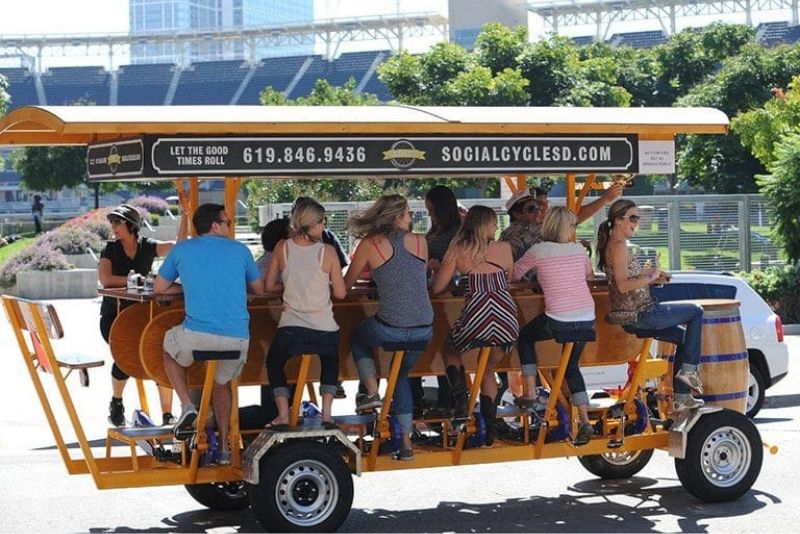 Social Cycle lets you combine sightseeing with a social drinking session — a great combo on any hot San Diego day.
Enjoy a couple of ice-cold drinks with your friends as you roll effortlessly along the city's lovely streets — the ideal activity for stag and hens parties, birthdays or any sort of celebration.
Whether you're traveling alone or with friends, riding this pub cycle is the most sociable event you can do while in San Diego. Enjoy a two-hour road trip around the downtown district and North Park, where you stop by some bars to try more drinks.
If you want an exclusive party on the road, rent the bike for at least two hours and choose from available routes, including Little Italy, Pacific Beach and Hillcrest.
But, wait! Remember that you have to pedal the bike yourself, so make sure you get at least five of your friends who can manage to keep going amid the drinking.
27 – Meet Shamu at SeaWorld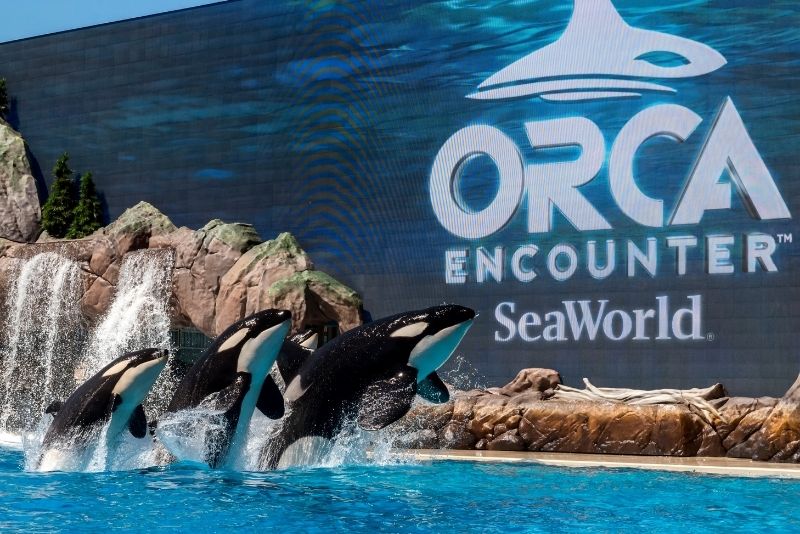 SeaWorld San Diego offers up-close animal experiences, extraordinary aquatic shows, and wildlife-inspired thrill rides.
Come face-to-face with fascinating marine mammals and learn about marine animal conservation efforts in this world-famous theme park. Kids absolutely love it!
Dine with orcas as you learn about their unique characteristics, or dine all day with a main course, dessert and soft drink — every hour in every participating restaurant.
Catch the Seven Seas Food Festival that happens every Spring and enjoy live music and global cuisines — with up to 15 food or beverage tastings in one ticket. You can also try five food or drinks with a Happy Hour Friday sampler pass.
Why not join the nightly event and watch a Polynesian dance show with live Hawaiian music. This surely fires up your evening before exploring more of the city's nightlife.
28 – Explore the wonderful world of Legoland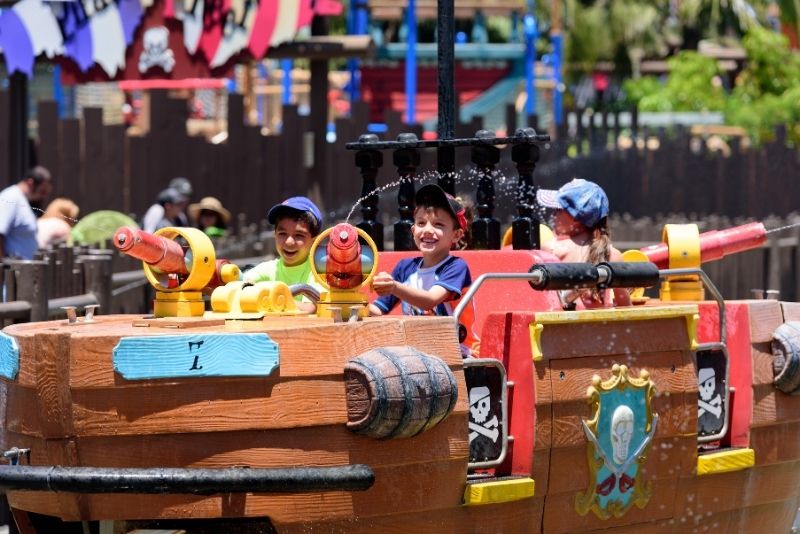 With tons of exciting rides and attractions, fantastic live shows, a fun aqua park, and a fascinating aquarium, Legoland California is a budding brick builder's paradise.
For those who want to come back regularly, why not get annual passes to get the best deal with over 60 attractions and shows to enjoy?
Keep an eye out for special events like the LEGO Ferrari Build & Race 2022, building your own LEGO Ferrari and testing it in a digital race. This event features a life-size LEGO Ferrari F40 where you can sit and have your photo taken.
Speaking of photos, get unlimited pictures with "imagic" while you're enjoying rides and exploring the park. Using facial recognition, this feature can take your photos anywhere you want, so no need to queue up at photo counters. It also makes saving and sharing these photos straight to your phone!
Whether you're young of age or young at heart, Legoland is always a great day out.
29 – Shop till you drop at Las Americas Premium Outlets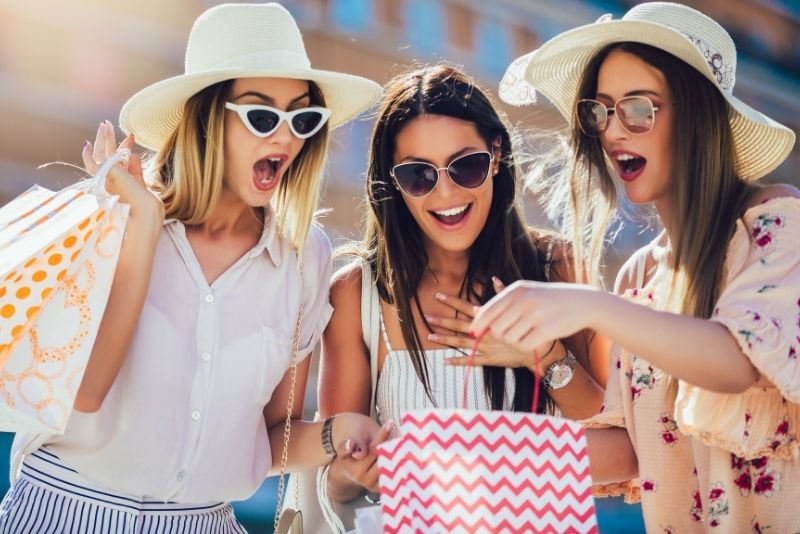 The perfect spot to unleash the inner shopaholic, the beautiful outdoor shopping plaza that is Las Americas Premium Outlets with nearly 100 brands to choose from.
With all the biggest names in the high street brands, such as features exceptional brands like Tommy Hilfiger, Adidas, Banana Republic, Calvin Klein and more.
It's definitely better to allot ample time here so you can explore all the stores and get all you need for the upcoming season or for your gifts galore.
Situated right next to the Mexican border, this complex is the largest outlet center in San Diego, just 20 minutes drive from the downtown area.
It's not just the setting that's beautiful here … so are the prices and huge savings!
30 – Try paragliding in Torrey Pines State Reserve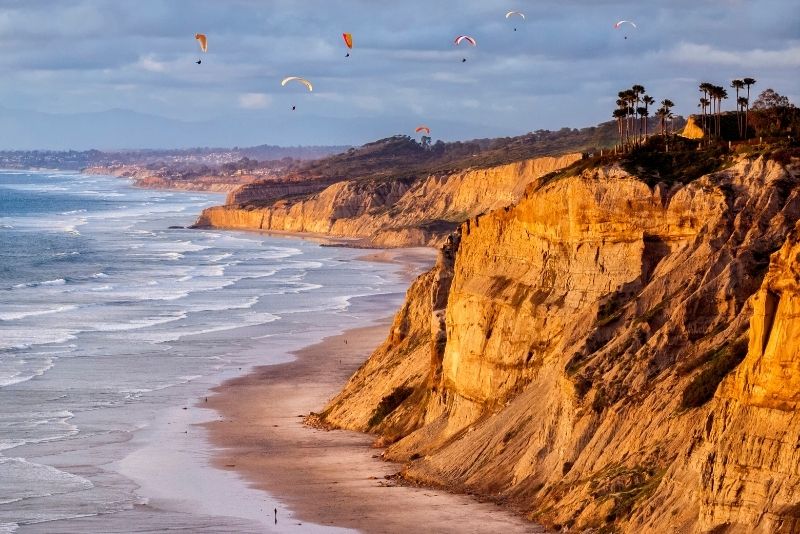 With nearly 100 years of flying history, the Torrey Pines Gliderport is San Diego's premier location for paragliding.
This historic site boasts almost a century of being a premier destination in Southern California, not only for paragliding and hang gliding, but also for flying sailplanes and remote control models.
Book a tandem flight and soar the skies above La Jolla's rugged seaside cliffs — an activity fit for all experience levels.
If you're interested in learning these sports, you can join flight lessons and get certifications. Or, simply try it for the first time in tandem with an instructor and before you know it, you're already flying on your own the second time around.
Aside from getting the best views in San Diego, watching the busy sky above Torrey Pines surely makes for marvelous sightseeing.
31 – Discover Sunset Cliffs Natural Park, one of San Diego's true coastal gems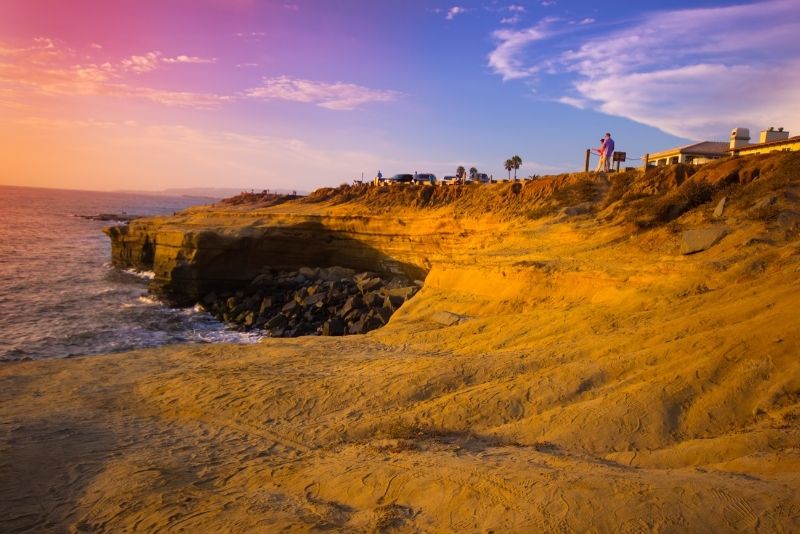 Experience a glorious sunset moment at one of the greatest spots in San Diego — on top of over a mile-long cliff facing the Pacific.
Sunset Cliffs Natural Park is a steep hillside 68-acre park offering countless opportunities to get immersed in the great outdoors.
Tackle one of the various hiking trails (even camp overnight), spend a few hours playing in the tide pools, try your hand at fishing, or just hang out and enjoy the scenery.
Enjoy the water in the swimming hole and explore the sea caves at low tide, but just remember that diving and jumping off the cliff are NOT allowed (it's dangerous and illegal).
32 – Take the family to the Air & Space Museum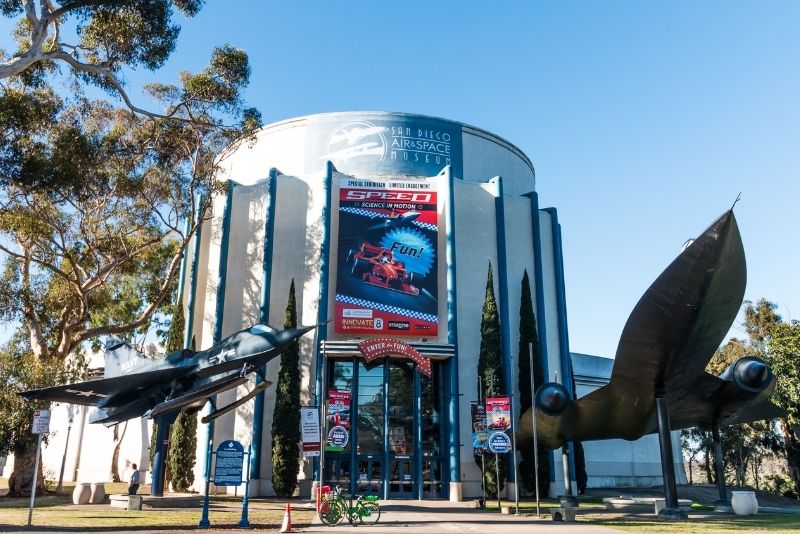 No trip to San Diego is complete without visiting the Air and Space Museum, an interactive and informative indoor attraction adored by kids and adults alike.
Not only can you admire a collection of historic aircraft and spacecraft from all over the world, but you walk away having learned a thing or two as well!
Learn about the First and Second World Wars from the aircraft used during those periods, such as Great Britain's Spitfire and the Japanese Zero. Check out these restored original planes and distinguish which among them won many battles.
See the contributions and stories of inspiring pioneers in aviation at the International Air & Space Hall of Fame. It aims to encourage the younger generation to pursue innovations and continue our exploration of the sky and outer space.
Take the children to the special exhibit "SPACE: Our Greatest Adventure" which showcases fun and interactive displays for them to learn and (hopefully) be inspired as explorers.
33 – Defy gravity jumping on a trampoline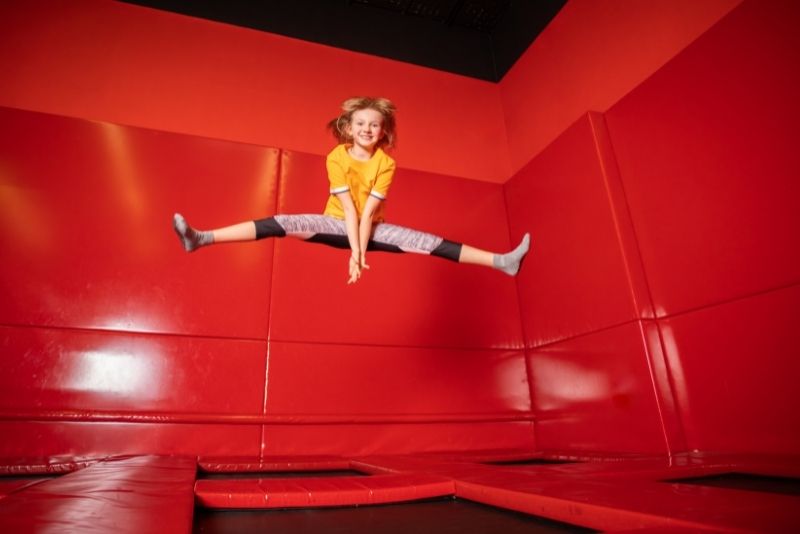 Bounce for hours with friends and family to have fun, while burning some calories and exercising your heart.
Unlike the ordinary playground, trampoline parks really make you jump and jump as much as you can lift yourself defying gravity.
Rockin' Jump San Diego is one of the popular indoor trampoline parks in Southern California, featuring dodgeball, foam pits and other games.
Other places in neighboring cities also have fitness programs, such as Jump Around Now Trampoline and Adventure Park, and Sky Zone Trampoline Park in Chula Vista.
34 – Hike to the Cabrillo National Monument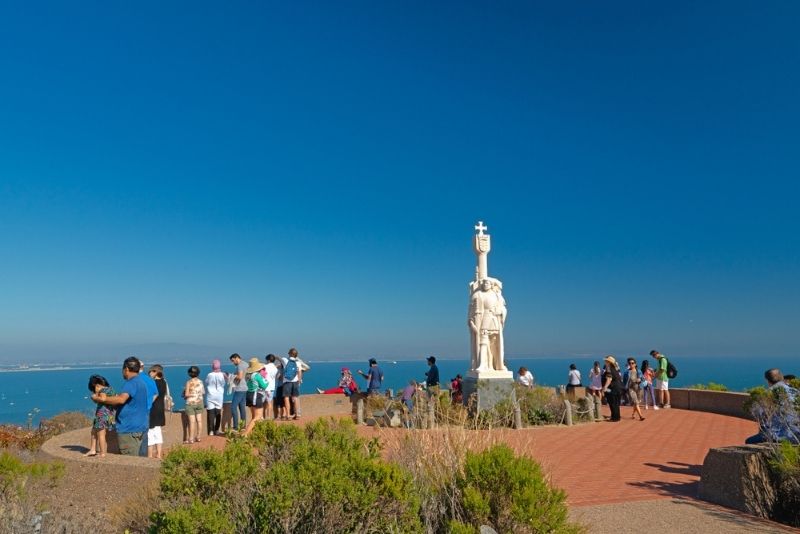 Situated at the southern tip of the Point Loma Peninsula, Cabrillo National Monument showcases tremendous views of the San Diego region — as well as excellent opportunities to explore the best local bits that Mother Nature has to offer.
It's named after a Spanish businessman, Juan Rodriguez Cabrillo, who was the first European to land on the shore of now known as the West Coast in 1542.
With hiking trails, tide pools and whale watching lookouts, there's plenty to do around here. You can also see the Old Point Loma Lighthouse decorated by the surrounding wildflowers.
35 – Explore San Diego's vibrant street art scene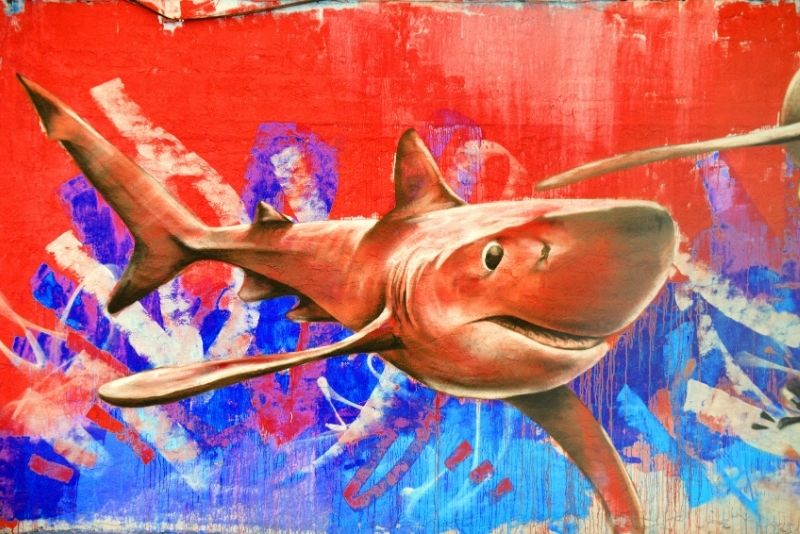 You don't have to visit museums to see the amazing art in San Diego, just stroll through the local alleyways!
The city acts as its own canvas, becoming a virtual outdoor art gallery full of stunning murals — some official, and some underground yet still intriguing.
With a dedicated street art walking tour, it's the ideal way to learn about San Diego's history and culture.
Walk towards the North Park for fantastic murals hidden in the alleys, such as the brightly neon-like pink and purple flowers and a woman's face. Strike a pose in front of the big "Greetings from San Diego" sign like a giant postcard.
If you want to see more in one space, head to the Graffiti Art Park at the University of California San Diego. The campus dedicated this area in 2014 for the students to express themselves through visual art.
The Murals of La Jolla project also accentuates the city with colorful images, such as the one at Ivanhoe Avenue that portrays a trippy series of cloud-like patterns called "One Pointed Attention."
36 – Driving your own speed boat!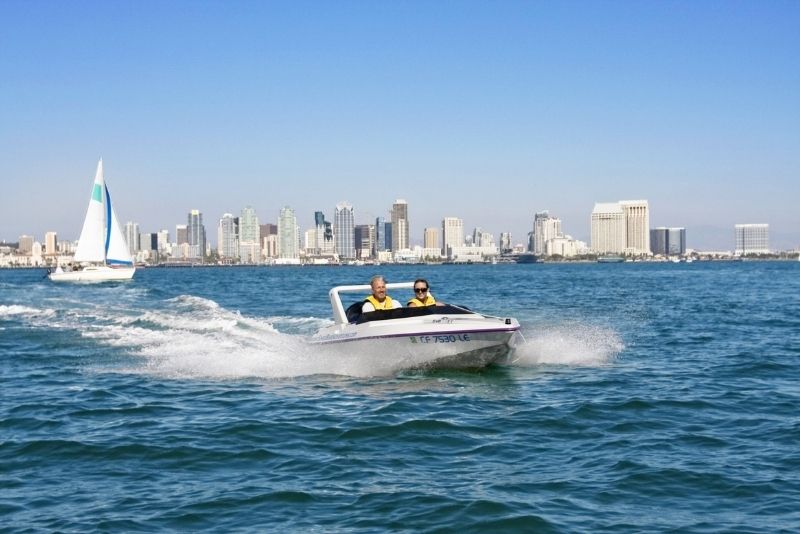 Experience the thrills and spills of an incredible boat tour, with the extra excitement of being behind the wheel!
Grab your friend, partner, or random stranger at the hostel, don a life jacket, and cruise around the bay's waters in your very own 2-seater speedboat — always a welcomed relief from the crowds of the mainland.
If you prefer to go sightseeing at your own speed, drive your own boat in San Diego Bay. View the city skyline and some famous sights such as the USS Midway and Seaport Village, as well the sea lions taking their siestas on the barges.
Explore these sights with commentaries from an expert who guides you through a radio communication system provided on the boat.
Get close to the US Navy submarine or the Coronado Bridge, steer the boat wherever you want — in this two-hour tour, you're the captain!
37 – Get awe-inspiring views of San Diego on a thrilling helicopter tour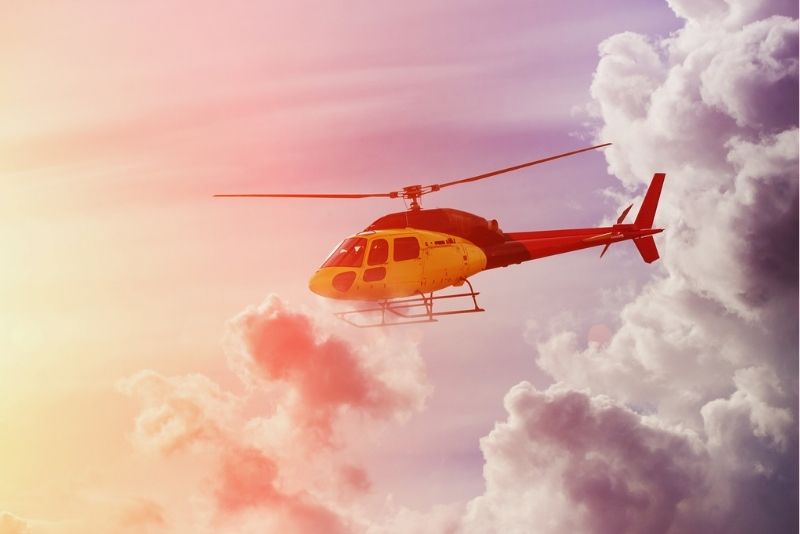 If you want to go sightseeing in style, take to the San Diego skies with Corporate Helicopters.
As you soar above the city, bask in all San Diego has to offer; marvel at the stunning skyline, fly past Ocean Beach Pier and get up close to sights like SeaWorld and the Del Mar Racetrack.
Choose from a 30-minute flight to see the highlights of San Diego or more with an hour flight which includes Fairbanks Ranch, Lake Hodges and Miramar Air Station.
Whether you're going for a romantic date in the sky or a serious proposal, this tour offers packages to make it happen for you. With the Romance in the Air tour, you get to toast a glass of champagne with your special someone.
Why not extend your adventure by flying to Temecula Valley for a wine tasting and lunch? The whole trip takes about four hours and includes a coastal tour on your way back.
38 – Fly like Iron Man, swim like a dolphin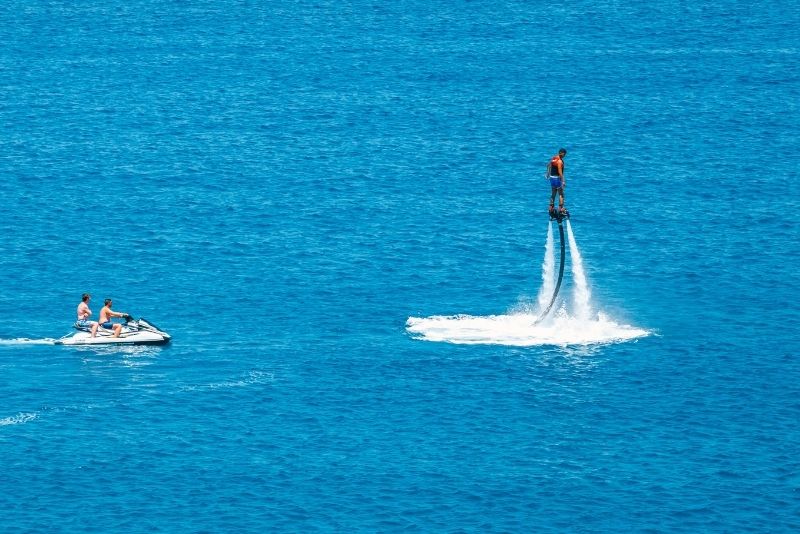 Looking for some fun San Diego water sports?
Have a go with the latest nautical adventure trend: flyboarding! Hydrolifting is a new way to experience thrills by rising to the air up to 50 feet from the water.
At the Mission Bay Sportcenter, thrillseekers are offered the chance to experience the adrenaline rush of hovering above the warm Pacific waters, Iron Man-style, before diving below the surface just like a dolphin.
First-timers can learn the basics of flyboarding within three to 10 minutes. For a full experience, take the 30-minute flight to learn the basic and advanced techniques reaching a maximum height of 20 feet.
The sports center also offers jet boards for those who can maneuver with only the hoverboards under their feet. Why not take the 60-minute flight and practice your advanced jet board skills with a backdrop of amazing views at the San Diego Bay.
It's a unique adventure you won't soon forget!
39 – Go fishing on Ocean Beach Pier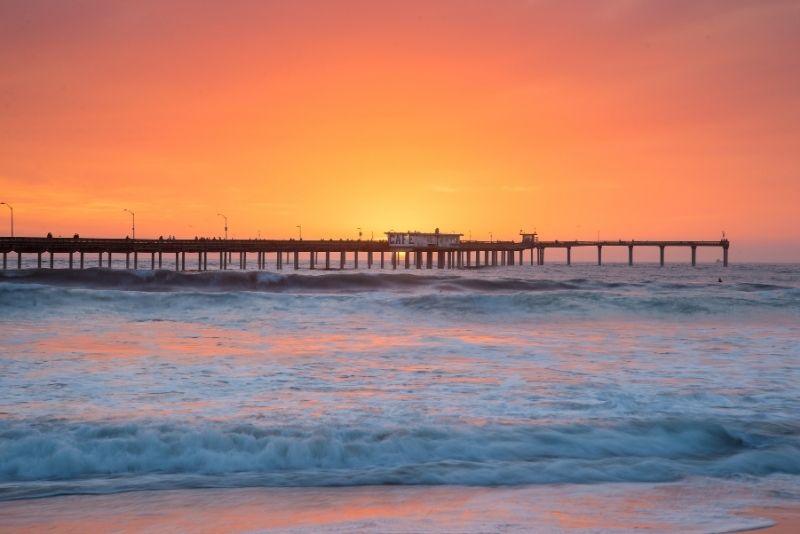 Pier fishing in any city is fun and pier fishing in San Diego with glowing sunsets and mesmerizing ocean breezes.
Come either early morning or sundown, choose the right bait, and catch halibut, bass, and other fish. Best of all, you don't need a fishing license to cast a reel from San Diego's Ocean Beach Pier, just a decent rod.
For the best fishing experience, make sure you come at the perfect time — when tides are shifting. Check the tide forecast if you want to get the most out of your visit to the pier. There are plenty of websites that provide tide tables and charts for fishing.
High tide or low tide, it's always a perfect time to visit the pier for the things you can see and do here aside from fishing. Watch the surfers, grab some food and meet many friendly locals. Accessible by car, this is one of the city's best spots for shore anglers.
40 – Glide through the water at high speed on a jet ski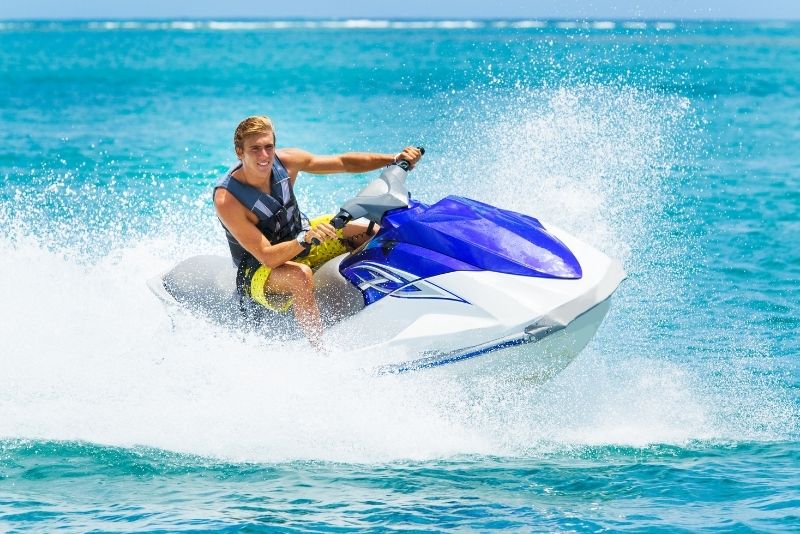 Hop on board a jet ski and zoom through San Diego's waters — an easily-accessible thrill that promises the perfect chance to cool off on those typically toasty SoCal summer days.
While there are plenty of vendors around the area, many tourists head to San Diego Bay Adventures to pick up their rentals.
Not dressed for any watersport? Aside from renting a jet ski, you can also borrow a wetsuit (no charge) so you're out into the water at the spur of the moment. There are also instructional videos and a guide to orient you and ensure your safety.
You can choose to ride alone or with a tandem, as you cruise the sea on a prime Jet Ski for over an hour. Fuel is included in the package.
Bring your family or friends, as they can also rent paddleboards or kayaks if they prefer a laid-back experience with a little bit of exercise.
41 – See wild animals roaming free at the San Diego Zoo Safari Park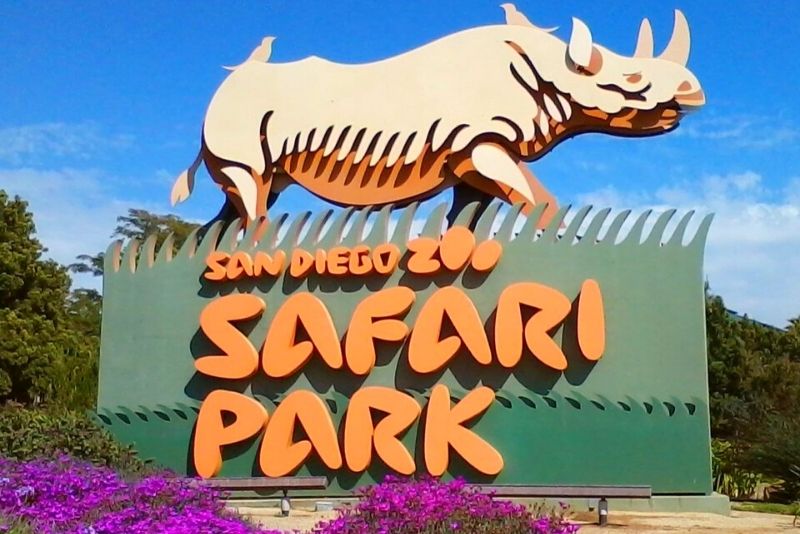 With 1,800 acres home to over 4,000 species of wild animals roaming free, the San Diego Zoo Safari Park is a surefire hit for locals and tourists alike.
Choose the type of safari you want to experience from exploring the Savanna habitats from an open-air truck, a safari cart or a zip line. You can also watch your favorite animal doing its daily routine, as you learn about the park's wildlife conservation efforts.
Why not go for a sleepover adventure and spend the night surrounded by wildlife? Discover what happens before the park's opening hours on a Sun Up Cheetah Safari, where you can witness a full-speed cheetah.
Get nose to nose with lions, admire the majestic California condor, see stunning African elephants, and so much more — this gigantic safari park is certainly worthy of a day out!
Indulge in mouth-watering food or enjoy a refreshing drink at the restaurants and snack bars in the area. You have a selection of coffee, breakfast, rice bowls, burgers, craft beer and ice cream to name a few.
42 – Visit local wineries in Temecula Wine Country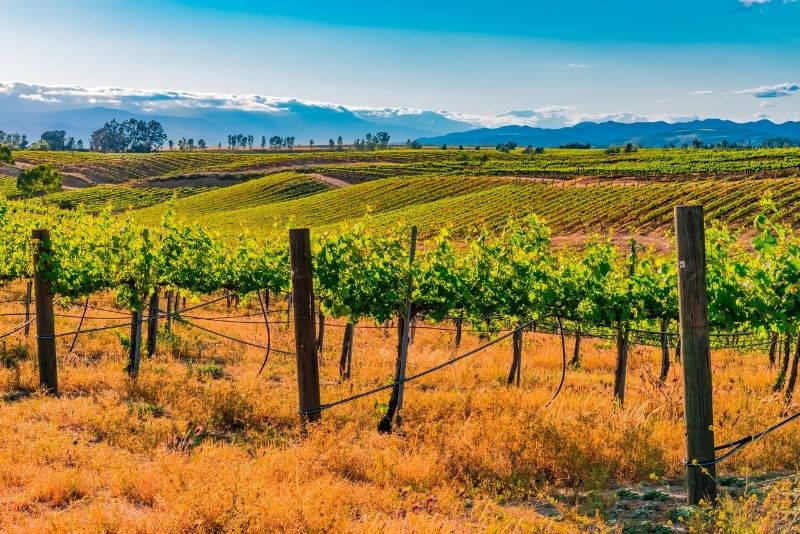 Explore the prestigious Temecula region, learn about the history of winemaking in the area, and tour a number of different and totally unique wine cellars — Vindemia, Callaway, and Baily are regular crowd favorites, but the list goes on and on.
An hour's drive from downtown San Diego, this "Wine Country" of Southern California is home to more than 40 wineries, producing award-winning wines paired with delectable dishes.
Tours usually take up to six hours, so you have plenty of time to try their best-seller vintage wines and relax in the vineyards — which produce over half a million cases of wine bottles every year for more than five decades now.
Of course, there are tasting to boot and nothing beats a summer day sipping on some of the best Californian wines.
43 – Dive with colorful fish at La Jolla Cove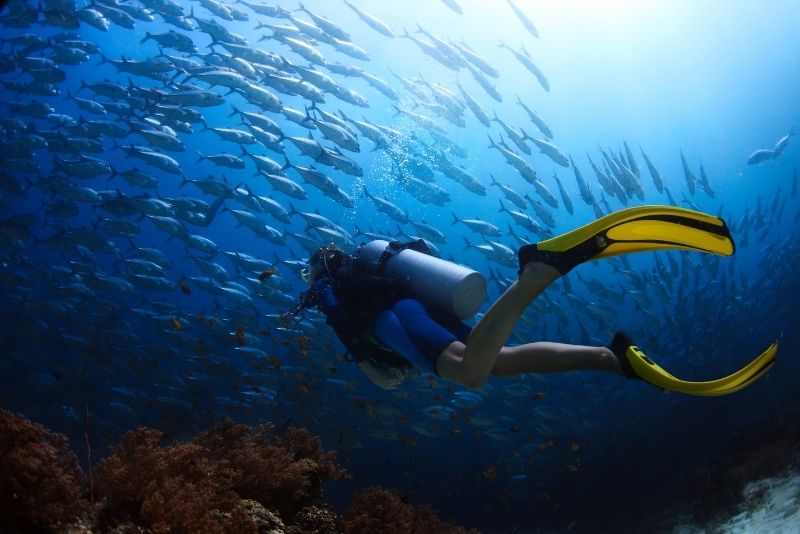 The San Diego region is a nautical playground for humans and animals alike, with waters that are as warm as they are clear.
From amazing sea lions to stunning leopard sharks, La Jolla Cove is teeming with sea life, making it a particularly fabulous place to scuba dive.
Part of the La Jolla Underwater Park, the cove has a mix of kelp forest and rocky areas where most people go for scuba diving, as well as snorkeling.
Watch out for Garibaldi damselfish, which are bright orange and have heart-shaped tails. They're known to be territorial and many divers say they bite!
Swim alongside Leopard sharks (they're alright) and sea turtles. You can meet a lot of friendly marine creatures if you dive into this spot. It's safe with lifeguards on duty who can also give you tips and warnings before stepping into the water.
44 – Check out the Automotive Museum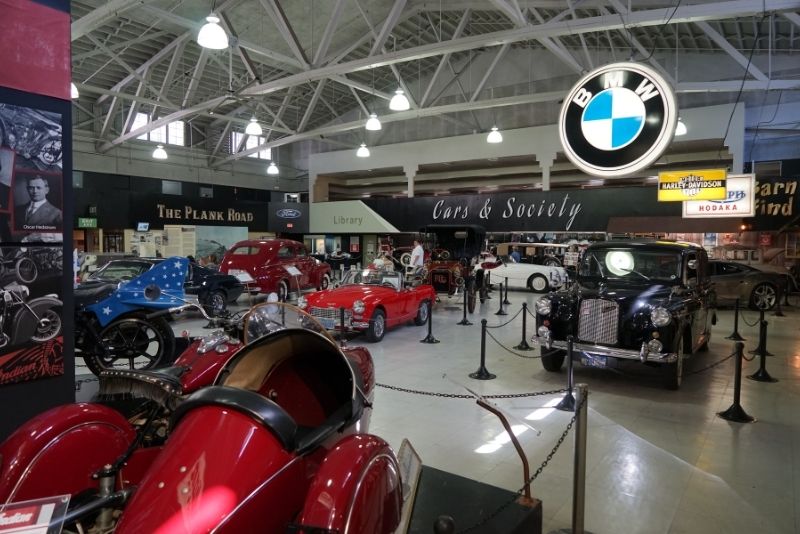 For all the petrolheads out there, this is one of the best things to do in San Diego.
Highlighting the history and evolution of the automobile, with stories, artifacts and genuine cars from around the world, the San Diego Automotive Museum offers a nostalgic look at the extraordinary vehicles of the 20th-century.
If you're a motorbike enthusiast, catch the large collection of international motorcycles. See your favorite foreign classic motorcycles, such as Triumph, Guzzi Falcons, Vincent, Terrot and BMW.
You can also see an exhibit dedicated to Indian Motorcycles, which is among the first manufacturers of motorcycles in the world.
Check out the Barn Find where you can see a 1928 Studebaker which has not moved since the owners parked it in their barn in the 1960s.
45 – Visit the amazing Birch Aquarium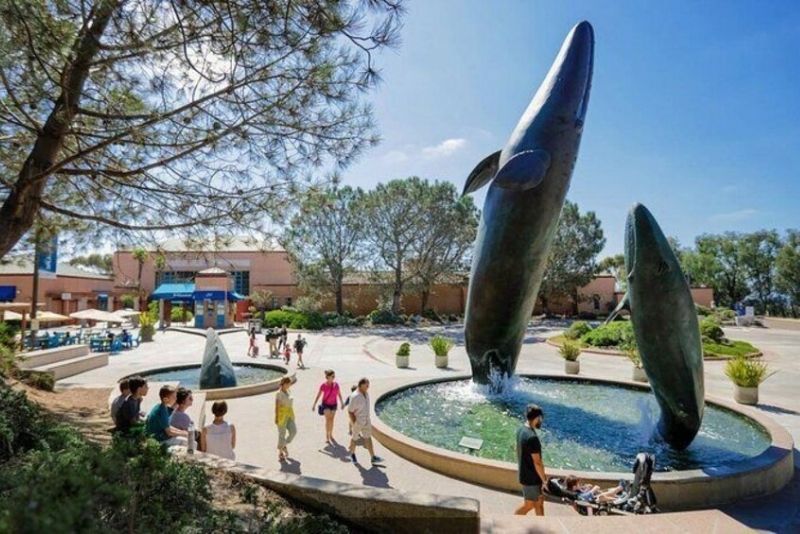 Embark on an underwater adventure with the family at Birch Aquarium, a popular attraction home to thousands of local marine animals.
With countless species spread across more than 60 different purpose-built aquarium habitats, the hours can fly by.
Meet weedy seadragons, seahorses and pipefish at one of the permanent exhibitions in one of the world's biggest habitats for these creatures.
Showcasing the importance of marine life conservation, this habitat is created to be an ideal place to breed seadragons — only a few aquariums are doing this across the globe.
Keep an eye out for an exhibit of a family of little blue penguins, as they build their nests and interact with each other. You can also see them up close in their nesting box and observe them swimming.
Don't forget to grab a souvenir at the gift shop!
46 – Have a few beers on the paddle pub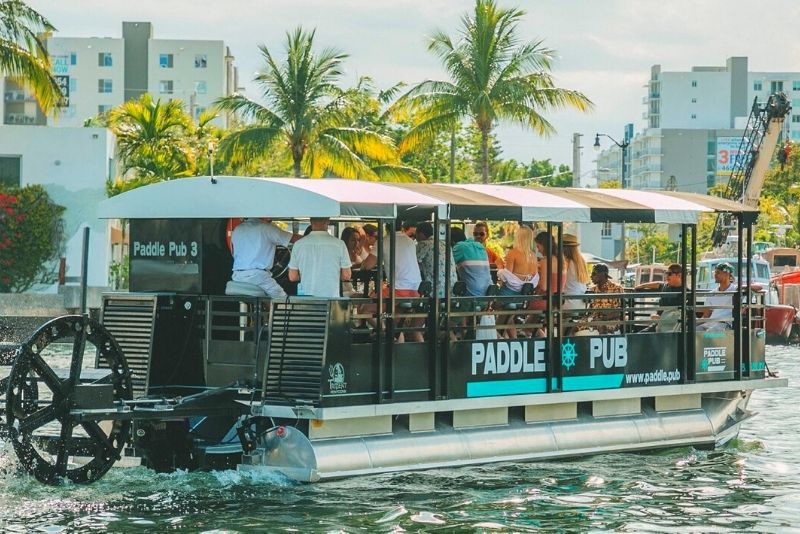 Experience a real floating party with Paddle Pub, one of the most unique watering holes in the state.
Whether you're celebrating a bachelorette or bachelor party, a birthday, or just want to try something different with a group of friends, it is one of the most fun ways to explore San Diego.
Gather your crew to pedal together, as you cruise along the Mission Bay — with lots of beer and laughter. Feel the party vibe with a sound system and lighting available on the boat.
With over 10 stations, you can hop on anytime you fancy starting your party. You can either be with up to 16 friends and have a private pub, or you can buy yourself a ticket and join a group of at least five people.
In this kind of fun, you need a team effort to paddle the boat to have a fantastic time.
47 – Head into the Anza-Borrego Desert on a quad bike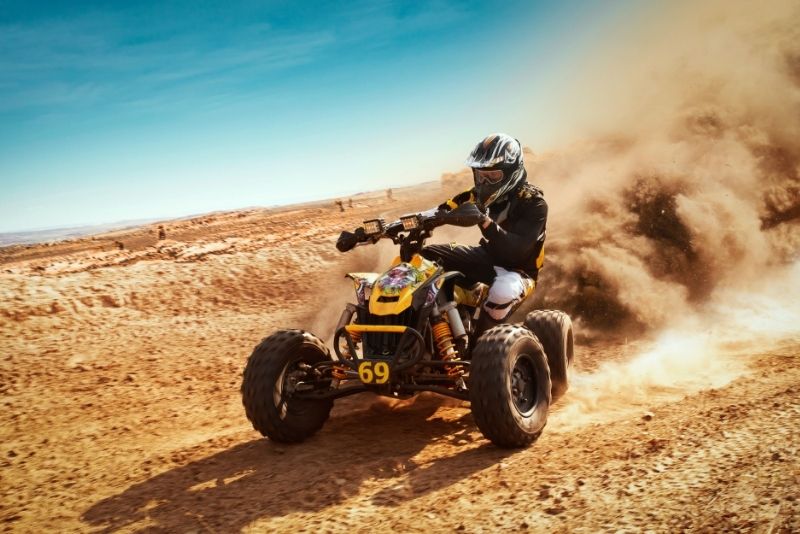 Who knew San Diego had a wild side, right?
A high-octane activity not too far from the main hustle of the city, the thrills of driving an ATV in the Anza-Borrego desert are second to none.
Located on the northeast of San Diego, less than two hours drive from the city's international airport, the state park consists of rugged terrains formed mostly by erosion.
For more than two decades, the San Diego Dune Tours has offered safe tours in all thrill levels "from mild to wild." Beginners can learn to drive in no time after a 15-minute orientation, while advanced riders can choose to drive up to 50 miles.
Choose from various tours depending on landscapes, whether you want to tackle the Painted Gorge, sand dunes or a combination of some dunes and waves on a lake.
This adventure is packed with fun at every turn — a once-in-a-lifetime experience that shouldn't be overlooked.
48 – Take a hot tub cruise!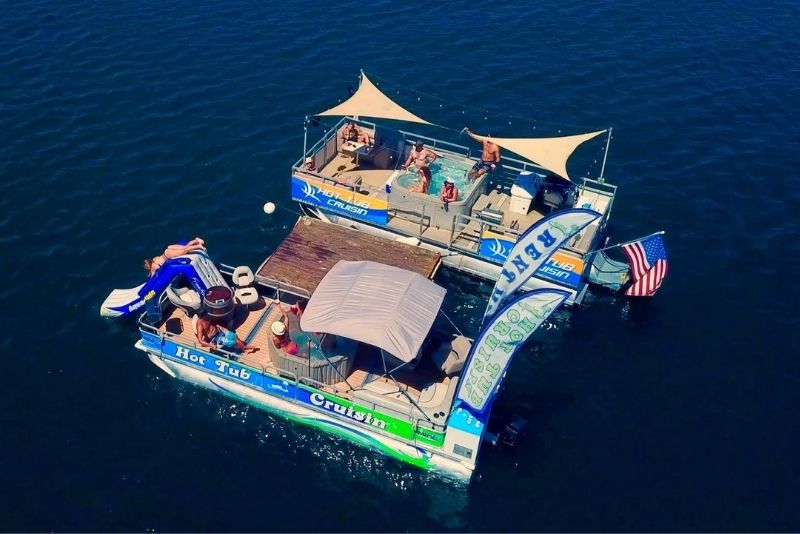 Looking for some more unique and fun things to do in San Diego?
Then look no further! Whether you're a local, new in town or just passing through, all kinds of guests rave about hot tubbing on a boat.
Cruise the clear waters of Mission Bay in style — while soaking in a small pool — a luxurious way to enjoy a nice day in San Diego.
Take your pool party to the sea with Hot Tub Cruisin, which offers either a boat for eight or 10 persons. Prepare your playlist and music player which you can connect easily to the sound system on board.
Keep your drinks cold in the cooler provided and request a grill if you want to barbecue.
With a glass of champagne in hand and sparkling views of the skyline, it's a must for the bucket list.
49 – Stroll through the Maritime Museum of San Diego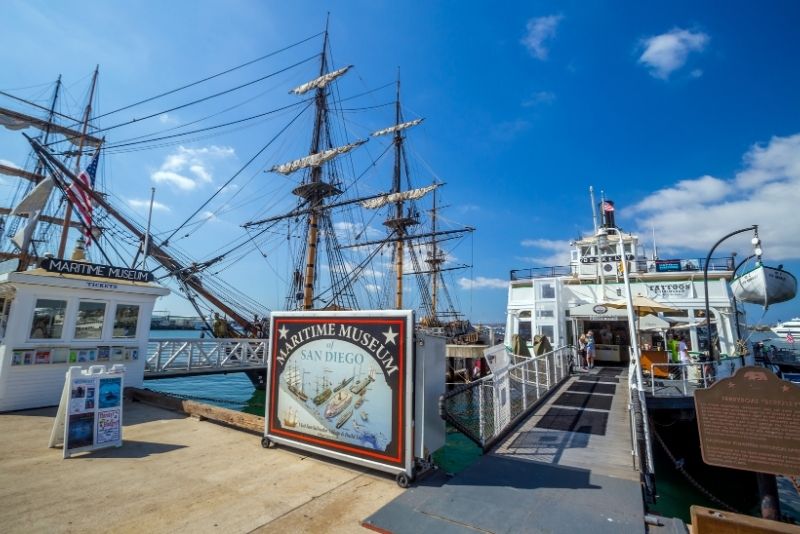 From tall sailing ships to classic yachts and Navy submarines, the Maritime Museum of San Diego showcases one of the largest collections of historic sea vessels in the United States.
Board the ships and discover their stories, including Californian, the state's official tall ship designed for speed. You can experience the power of its 7,000 square feet of canvas harnessing the wind by joining a Tall Ship Adventures.
While there's plenty to see, the museum's undisputed centerpiece is the Star of India, an iron bark that dates back to 1863.
Check out also the indoor exhibits which consist of old photographs and artifacts chronicling historical periods in which San Diego played important roles. These include the ages of sailing and steam, as well as how it became the "tuna capital of the world" and subsequently failed.
Browse vintage-colored postcards showcasing the city's famous sights and landmarks at the "Wish You Were Here" exhibit. Visitors also get a free postcard as a remembrance which they can send to their families and friends.
50 – Jump out of a plane!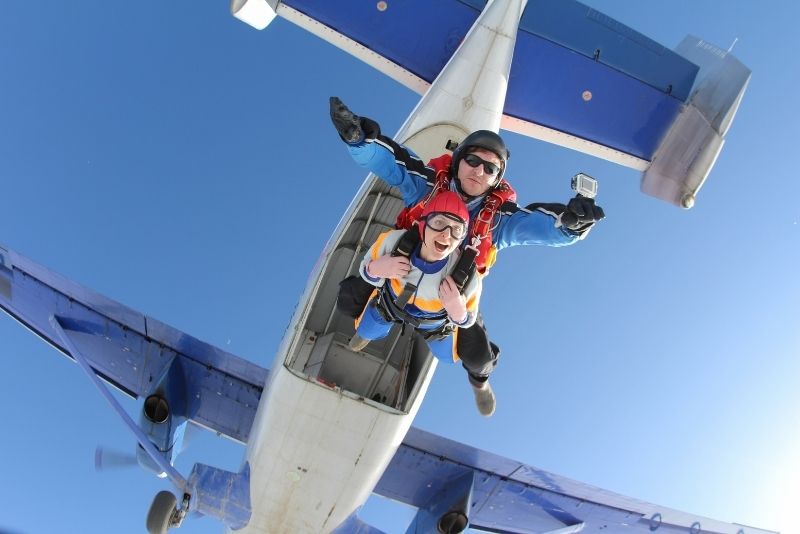 Looking for a unique addition to your San Diego vacation?
Jum from up to 15,000 feet and experience the thrill of freefall for up to an insane 60 seconds, traveling at speeds of over 120 mph.
Get this thrill of a lifetime at Skydive San Diego. You're diving in tandem with a licensed instructor, so all you have to do is enjoy the experience.
Make it the longest minute of your life by admiring the views of Southern California, Baja California and the wide Pacific Ocean.
Once the parachute is unfurled, you can see the scenery more clearly, as you float gently down to Earth.
51 – Get splashed at Sesame Place San Diego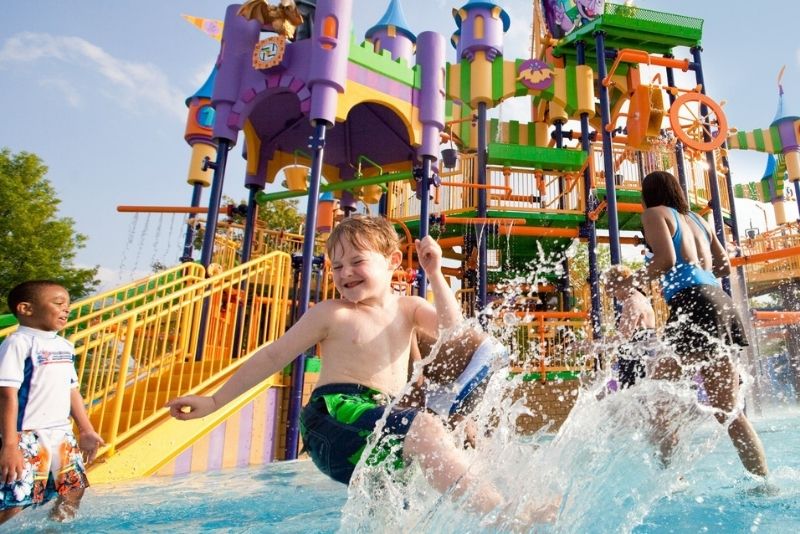 San Diego might be famed for its long sandy beaches, but it also offers fantastic theme parks. On those hot summer days, there's no better place to be than at Sesame Place.
This exciting water park located in the former Aquatica in Chula Vista makes every child (child at heart) joyous with family-friendly rides and water slides.
Take your children to their first roller coaster in an Elmo-themed rocket or Super Grover's Box Car Derby, and the all-time favorite carousel. Float down on a tube along Big Bird's Rambling River, as you pass by the Good Ship Sesame and bubbling waterfalls.
The only amusement park designed based on the famous TV show, it also offers festive shows and parades catering to all ages. Meet your favorite Sesame Street characters and watch them sing and dance in a fabulous show.
52 – Pull on some rain boots and go tide pooling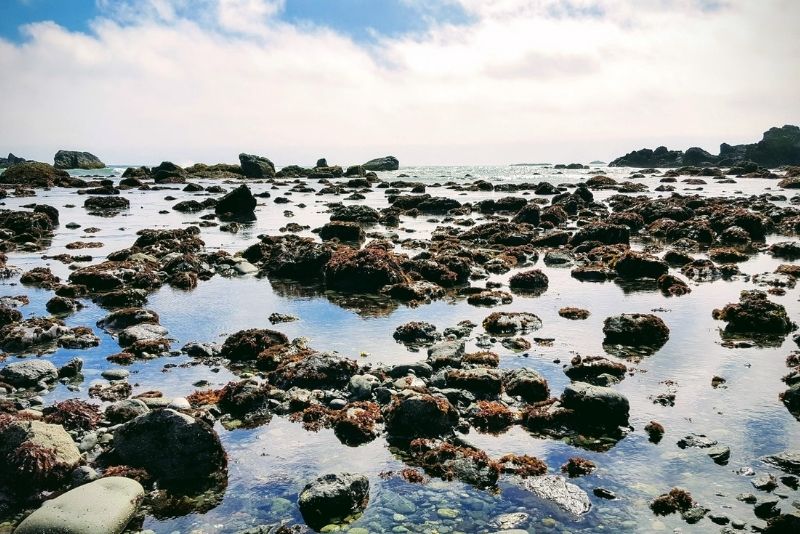 No need to go snorkeling or scuba diving to discover what lies beneath the blue water. During low tide, sea beds near the shore reveal some amazing creatures swimming in the water trapped in depressions and between rocks.
San Diego has a number of fine spots in San Diego to get up close and personal with the variety of tide pool residents.
Below the cliffs at Point Loma at the southern tip of Cabrillo National Monument, this tide pool has various fish, crabs, mussels, lobsters and plants entangling with the rocks.
Colorful anemones decorate the shore at Sunset Cliffs Natural Park, while starfish and sometimes octopuses show up at the Dike Rock which is part of the La Jolla Underwater Marine Park.
Check out sea cucumbers, limpets and hermit crabs, as you explore the interactive pool at the Birch Aquarium at Scripps, as well as tide pools in neighboring state beaches in Encinitas.
Just remember: look, don't touch.
53 – Sip on refreshing beach craft cocktails at Cannonball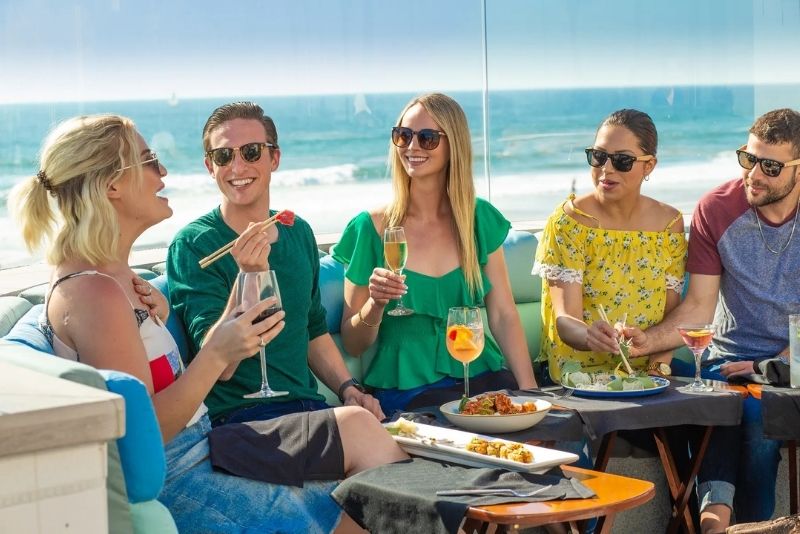 Sample Japanese delicacies by the sea at Cannonball, San Diego's largest oceanfront rooftop, and enjoy the stunning beachfront views.
With service just as spectacular as the panoramic views, this is one of the best places in San Diego for a delicious seafood dinner.
It's the perfect spot to enjoy the big ocean in front of you when it's not the right moment to dive into the water. Try all the cocktails you fancy and have a delicious meal with the sea breeze adding to your appetite.
If you happen to be here on a Thursday, catch the Acoustic Sunsets to watch some local musicians and artists perform. Check out the lineup and see who's playing soon!
54 – Have a blast at Belmont Park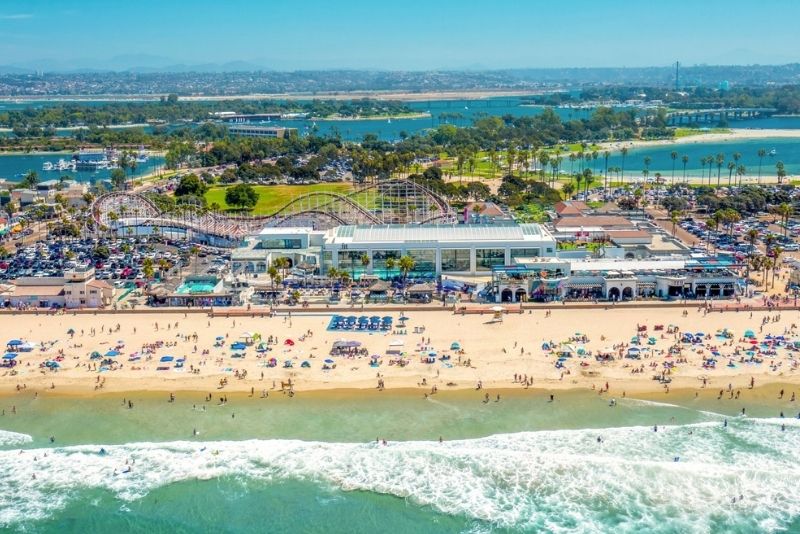 Situated along Mission Beach, Belmont Park is a historic oceanfront amusement park that offers a one-way ticket to the land of adrenaline.
This beachfront has been one of the favorite places among locals and visitors to go not only for swimming and sunbathing but also for entertainment, dining and shopping.
The park's centerpieces include the 2,600-foot-long roller coaster called Giant Dipper, and the Plunge swimming pool — which was the largest among salt-water pools in the world at the time of the park's opening in 1925.
Strap into a wide range of thrilling attractions, from roller coasters to bumper cars and zero-gravity rides before grabbing an ice cream and walking along the beach.
55 – Party the night away in the Gaslamp Quarter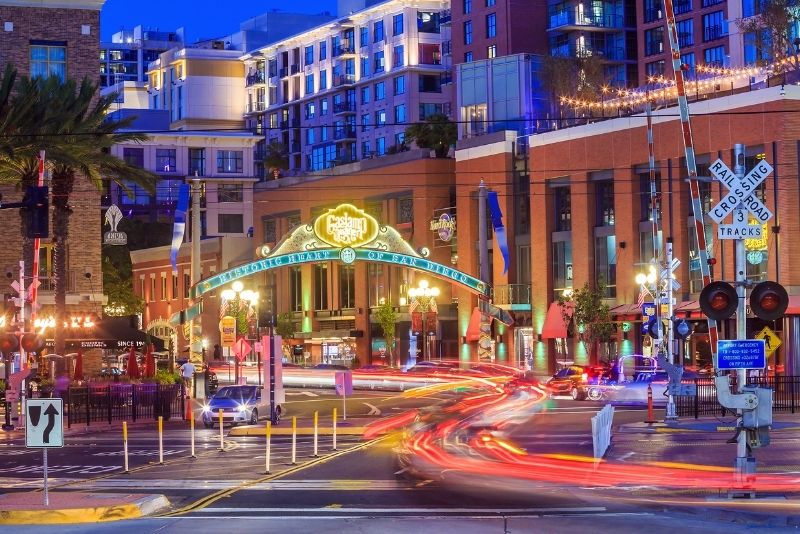 You're on vacation, after all, so why not let loose a little?
A night out pub crawling with your friends (old or new) is one fun way to spend the weekend, that's for sure.
Located in the heart of downtown San Diego, Gaslamp Quarter is the place to be when it comes to nightlife — with pubs, bars, clubs and restaurants to boot, there are plenty of watering holes to choose from.
One of the highly recommended spots is hip and modern-designed Barleymash, which serves American favorite dishes and its own beer and bourbon. When the party starts to rock, go downstairs to Ginger's where you get martinis and vodka mixes that you need to last for the night.
Feel vibe on the open-air rooftop with city lights as your backdrop at Rustic Root, sipping craft cocktails and seasonal specialties. This restaurant brings its Califonia twist to American comfort food using fresh ingredients.
For those who like drinking and sitting at a bar, head to some of the best bars in the Gaslamp district, such as the historic The Tipsy Crow, Werewolf which also has karaoke and The Shout! House piano bar.
56 – Check out some live music at Belly Up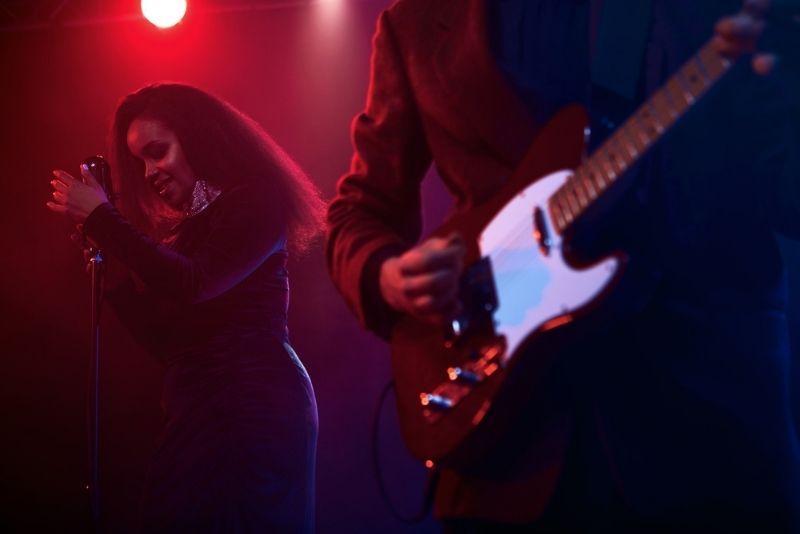 Looking for a cool place to catch some live music?
San Diego has one of the most exciting music scenes in the United States, although perhaps no venue is more well-known than Belly Up.
Since its opening in the 1970s, it's been famed for showcasing talented artists like John Lee Hooker and BB King, and legendary shows like that of George Clinton and The Neville Brothers.
This celebrated venue has given the stage to some of the famous artists when they were on their way to stardom — like No Doubt, Black Eyed Peace and Mumford and Sons. The Rolling Stones, Tom Jones, The Red Hot Chili Pepper and Ben Harper also played here.
Check out its calendar for upcoming concerts of major American artists such as the traveling surfer and musician Donavon Frankenreiter and multi-talented Debbie Gibson.
57 – Trek through Mission Trails Regional Park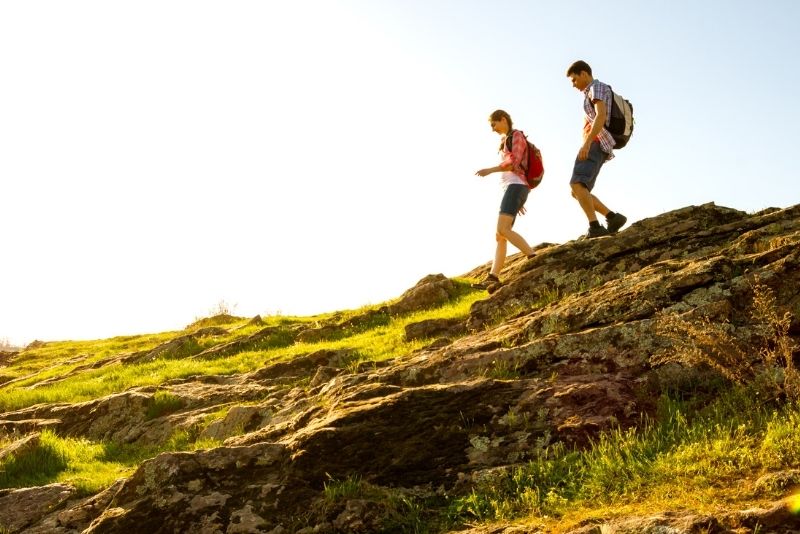 Encompassing more than 8,000 acres, Mission Trails Regional Park is a nature lover's paradise, offering hiking trails suitable for all experience levels
Providing a great natural escape from the hustle and bustle of San Diego city, the park is about a 20-minute drive northeast of the downtown area.
One of the country's largest urban parks, the Mission Trails provides visitors with opportunities to explore the historical and cultural facets of the city — as well as recreational areas for hiking, boating, camping and horse riding.
Check out the art exhibitions featuring some of the impressive artists at the park's visitor center, which welcomes over 80,000 visitors every year.
The exhibits are part of the Mission Trails Regional Park Foundation's program to include various media such as paint, clay and photography to name a few.
58 – Watch a live play at the Old Globe Theatre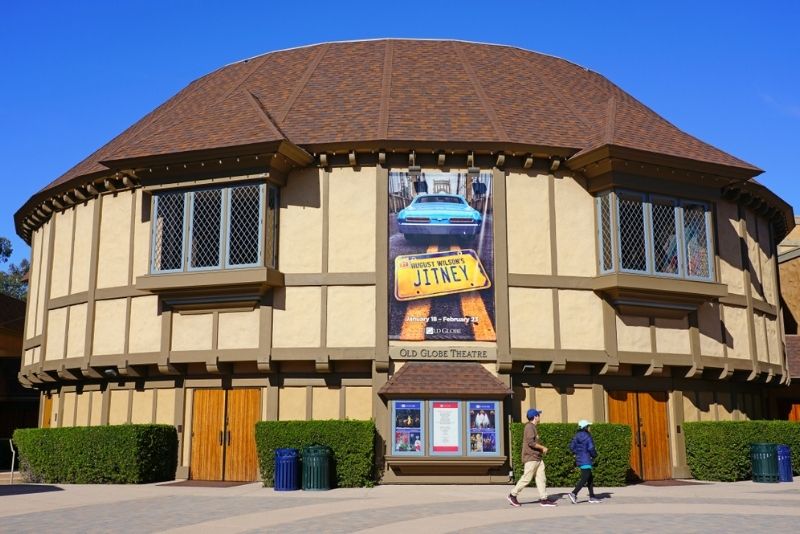 Located in Balboa Park, the award-winning Old Globe Theatre is one of the city's most important cultural attractions, standing tall for over 75 years.
Designed after the world-renowned Shakespeare's Globe in the United Kingdom, San Diego's The Old Globe has shown epic plays and performances throughout the years since its construction in 1935.
Watch original Broadway productions, Shakespeare classics and some of the best creations of contemporary writers and outstanding directors.
Check the upcoming calendar, pick your favorite performance, sit back and just enjoy the show!
59 – Go surfing at La Jolla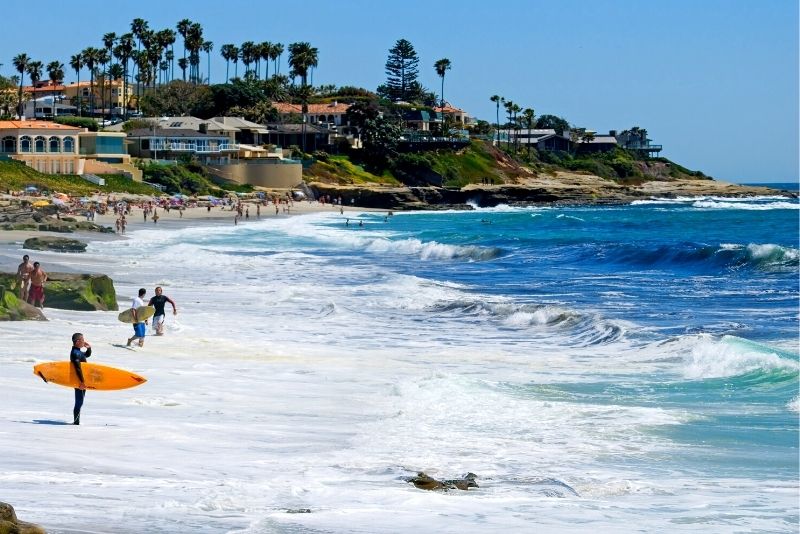 La Jolla is renowned as one of the world's premier surfing destinations, and it's also conveniently located not too far from the main draws of downtown San Diego.
Whether you're a beginner or a seasoned pro, there's never a bad day to ride the waves at what is arguably California's best-surfing beach.
Ready or not for a surfing day, you can easily make it happen with plenty of professional instructors and surfboards rentals in the area.
It offers a safe place and friendly atmosphere where you can join a class and catch some waves with a group, or take your surfing skills and enthusiasm to the next level.
60 – Take an afternoon stroll through Seaport Village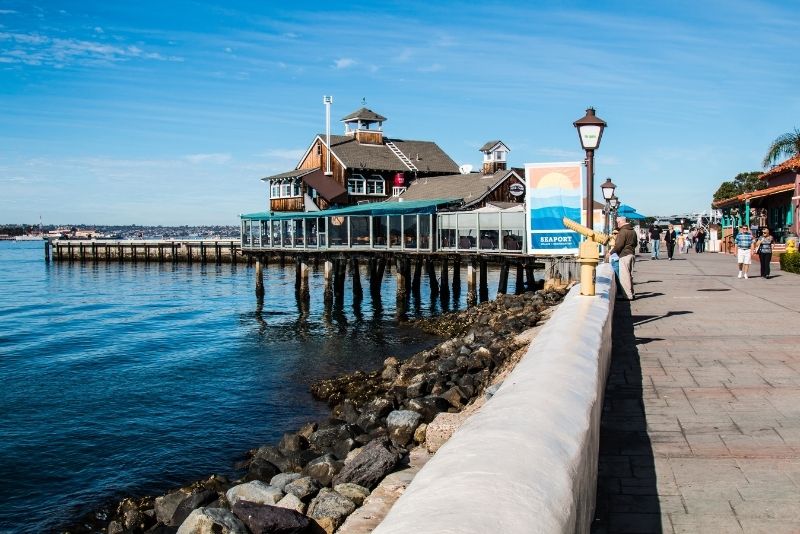 Nestled between the historic USS Midway Aircraft Carrier and the San Diego Convention Center, Seaport Village offers amazing dining options, unique shopping and awesome live music events — bringing San Diego's waterfront to life.
Take the kids to the Storytime with Professor Flutters every Wednesday just before you get your lunch at the food court.
Not only does the village provide great views of the Coronado Bridge (and island), but also fresh ocean breezes 365 days a year.
See the upcoming live music shows on the calendar, so you're not missing out on the fun in this warm seaside village.
61 – Visit the Happiest Place on Earth — Disneyland!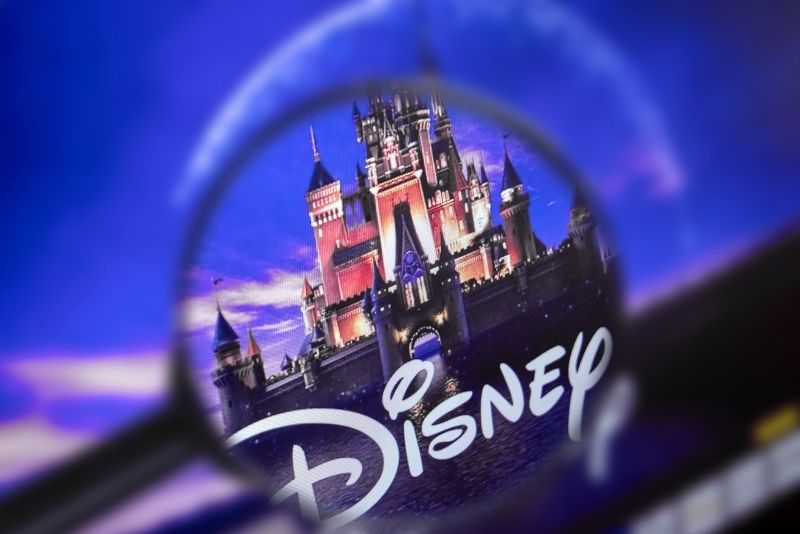 Embark on a scenic drive north en route to Disneyland Resort, California's most famous and popular theme park — sitting only 90 minutes from downtown San Diego.
With 2 world-class theme parks, Disneyland and California Adventure, the reputation of this iconic attraction speaks for itself.
At California Adventure, children can join the Avengers choose new superheroes of the next generation. Take them to the whimsical rides at Jessie's Critter Carousel or "Inside Out" Emotional Whirlwind.
Disneyland Park opens up enchanting kingdoms where you meet favorite characters from the classic Disney stories. Join the fun and excitement fighting the battle of the Resistance group from "Star Wars" or escaping captivity at the "Pirates of the Caribbean."
Don't want to wait in line? Grab fast passes and visit during the week.
62 – Bet on horse racing at Del Mar Racetrack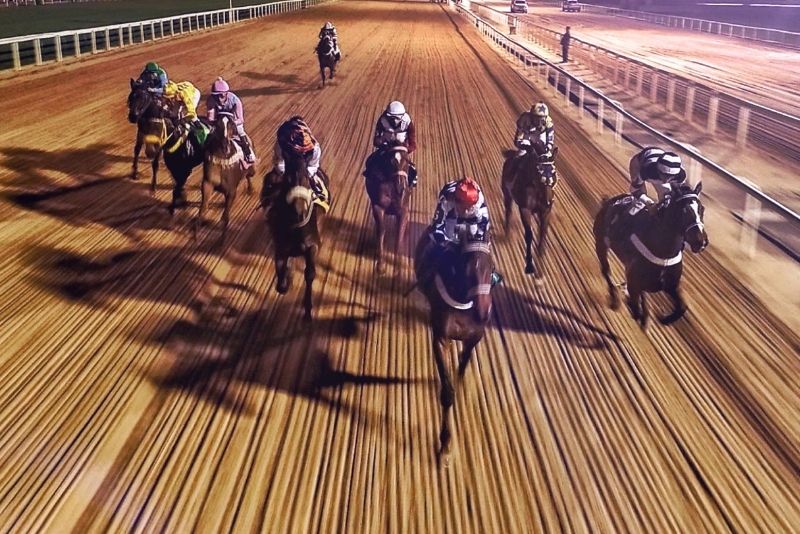 After traversing the Gaslamp District or Old Town, cap off the evening with a visit to the Del Mar Racetrack, home of regular horse racing.
For several decades, this racetrack has drawn thousands of visitors to watch match races since its opening in 1937.
Events at Del Mar run Wednesday through Sunday, typically from mid-July through to early September.
Grab some sandwiches, salads and Mexican foods at the trackside restaurants, including Corona Beach House, Stretch Run Grill and Veranda Cafe.
Make sure to try Del Margarita, Strawberry Stirrup, Summer Breeze and all the signature drinks served in the restaurants and bars.
63 – Go out at The Observatory North Park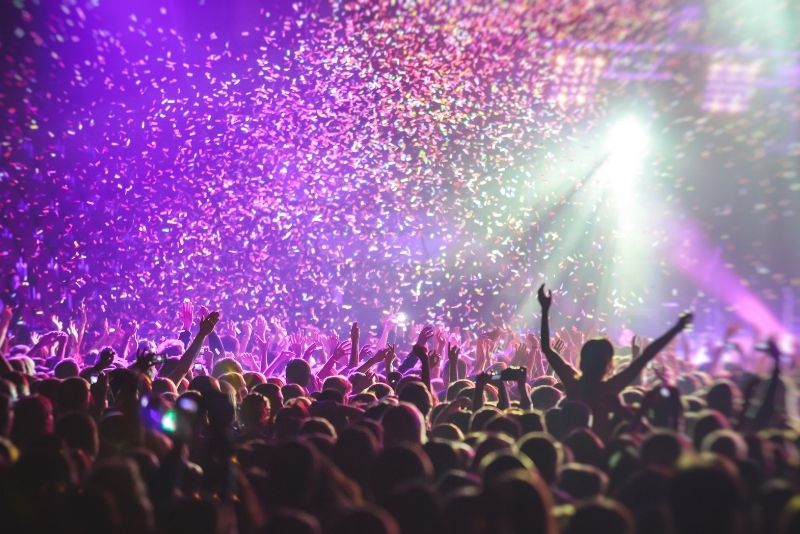 Are you a rock music fan? When it comes to rock music in San Diego, you can guarantee that the Observatory North Park has got your back.
Situated in the city's hipster neighborhood, this music venue accommodates over 1,000 viewers. It features extraordinary spaces in a total area of 25,000 square feet, including a music hall, bars and a VIP lounge.
Check out the calendar of events which also include performances of independent and emerging artists and bands of various music genres, as well as standup comedians.
The atmosphere is wild, the performers are world-class, and the drinks and food are never too far away!
64 – Spend the evening at Mister A's, a feast for the eyes and the stomach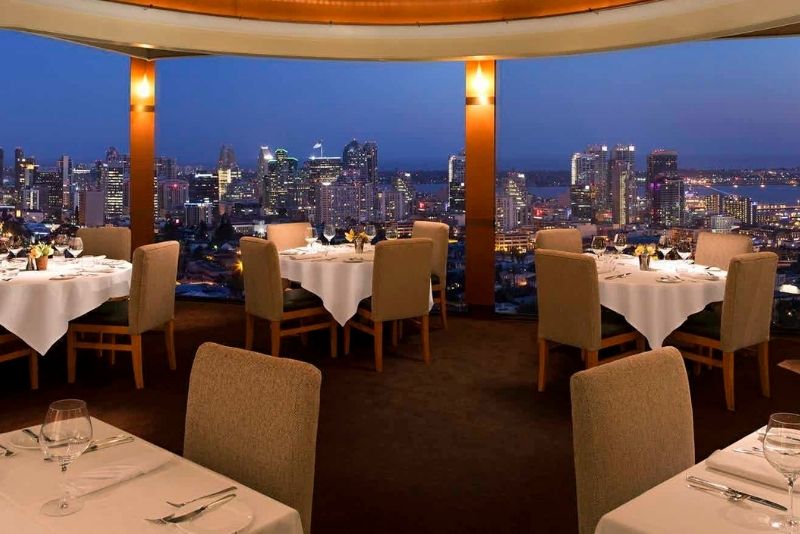 Looking for a romantic place to dine with your special someone?
Maybe you're thinking of popping a certain question! Either way, escape the city crowds and venture up to Mister A's. This venue boasts what is arguably the best view from any San Diego eaterie.
But, it's not just all about the view — the menu is equally impressive!
65 – Take drinking to the next level at ALTITUDE Sky Lounge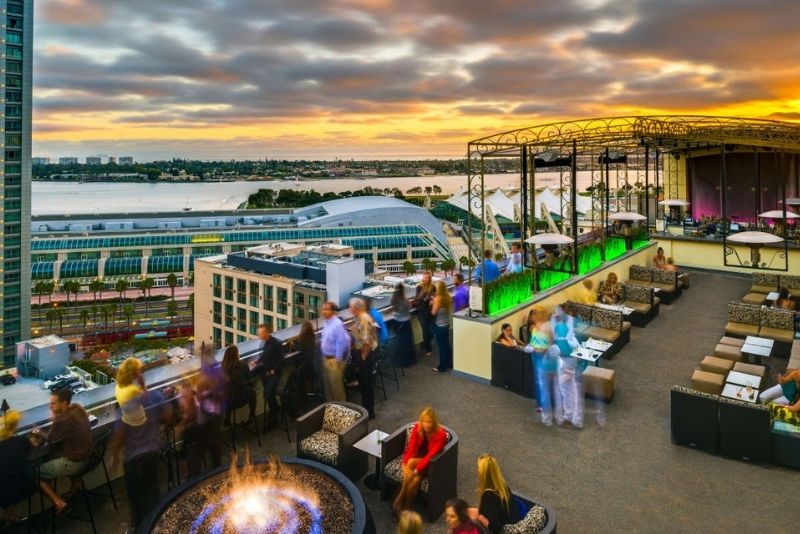 Perched 22 stories above the historic Gaslamp District in downtown San Diego, ALTITUDE Sky Lounge boasts unparalleled panoramic views of San Diego.
With a large menu full of beers, wines, cocktails and snacks, it's the ideal spot to watch the sun go down before hitting the town.
Catch the Sunset Happy Hour with all premium cocktails at $7 and domestic draft beers at $5.
Enjoy the amazing views with a vantage point to watch San Diego Padres play a baseball game at Petco Park.
66 – Watch San Diego Symphony's performance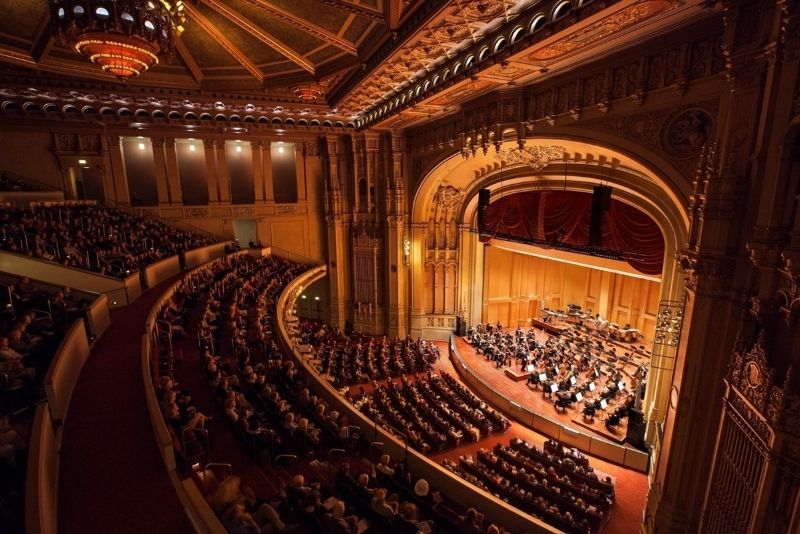 The San Diego Symphony performed its first concert in 1910 and has since become one of the finest classical music venues in California.
In 2022, it has serenaded the entire city with over 30 classical music performances from winter until the end of spring. Check out their calendar to catch them while you're in town.
Having performed at Copley Symphony Hall located in Jacobs Music Center, the orchestra plays this season at various venues all throughout the city and neighboring areas.
These include the San Diego Civic Theatre, The Rady Shell at Jacobs Park and The Baker-Baum Concert Hall of The Conrad Prebys Performing Arts Center, among others.
With wonderful acoustics and extraordinarily talented musicians, this brilliantly-decorated theater is a must-visit for any classical music fan.
67 – Take it easy with a spa day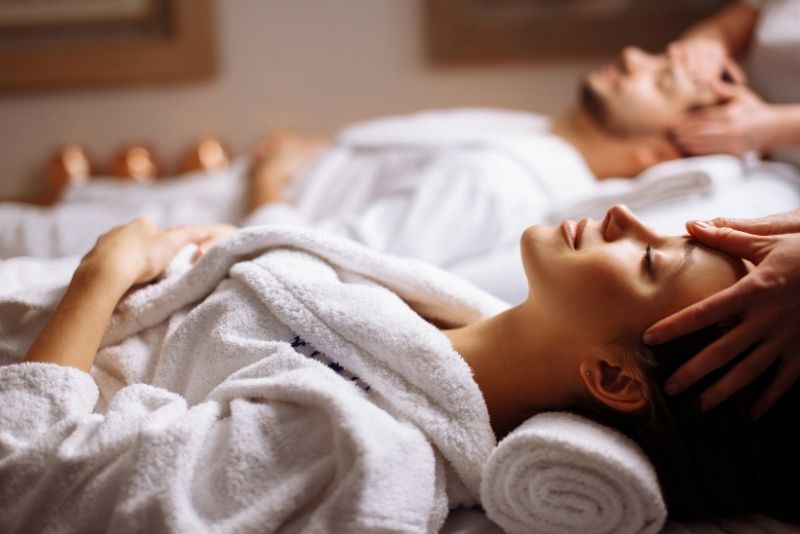 On those days when you want nothing more than a chance to recharge the batteries, San Diego is flush with wellness and relaxation opportunities.
Whether you're after a massage, a spa day, a yoga session or a combination of them all (plus more), there are always sizeable discounts available when you book online and in advance.
Soothe your body and relax your mind with a pampering spa package at the best price. It usually comes with an aromatherapy massage and rejuvenating facial treatments.
Achieve deep relaxation and calmness in a flotation tank filled with Epsom salt and warm water to relieve stress, recharge your body and clear your mind.
Check out the best deals for more elaborate treatments, including red light therapy and acupuncture to help ease tensed muscles, pain and inflammation.
68 – See a live show at Humphreys Concerts By The Bay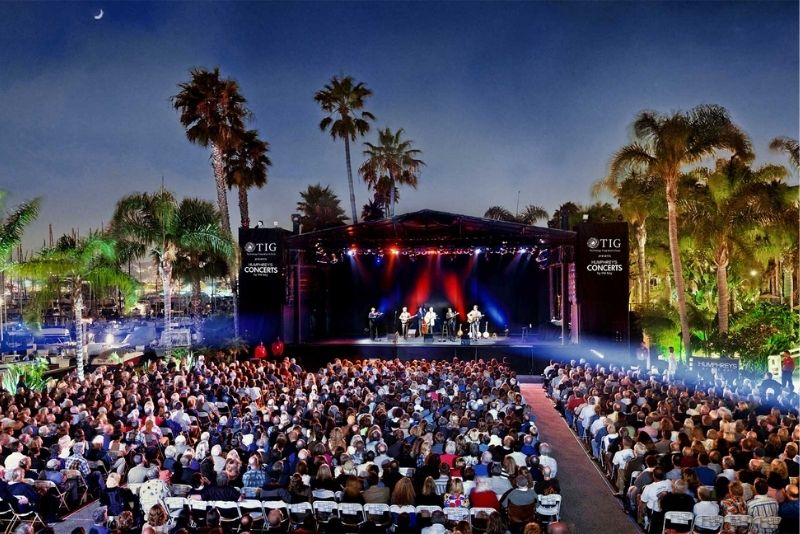 Located on Shelter Island, Humphreys Concerts By The Bay has been a San Diego summer tradition for the past 40 years.
It has showcased the biggest names in music history including Willie Nelson, Stevie Wonder, Jackson Browne and Bob Dylan, just to name a few.
The season runs from April to October, so there's plenty of time to see your favorite artists strut their stuff.
Check out amazing dinner and hotel packages that come with your concert ticket price to make your visit to Humphreys worthwhile. Dinner consists of delicious appetizers, main course and desserts, while dinner for two is included in hotel packages.
69 – Appreciate classical music in a candlelight concert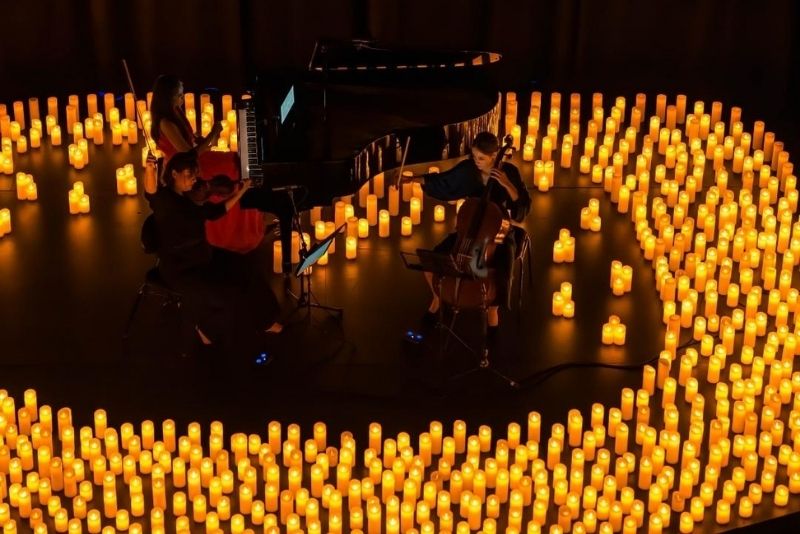 What else can be more romantic than a live performance in a candlelit setting?
San Diego plays host to candlelight concerts of famous works of Beethoven and Mozart among other world celebrated composers, as well as some of the best contemporaries.
Experience intimate and exquisite performances in magnificent venues such as San Diego Natural History Museum, The Abbey on the Fifth and San Diego Central Library.
Admire their gorgeous architecture bathed in candlelights and outstanding acoustics that can take you back to the glorious eras or the happiest moments of your life.
70- Grab a beer and burger at the Waterfront Bar & Grill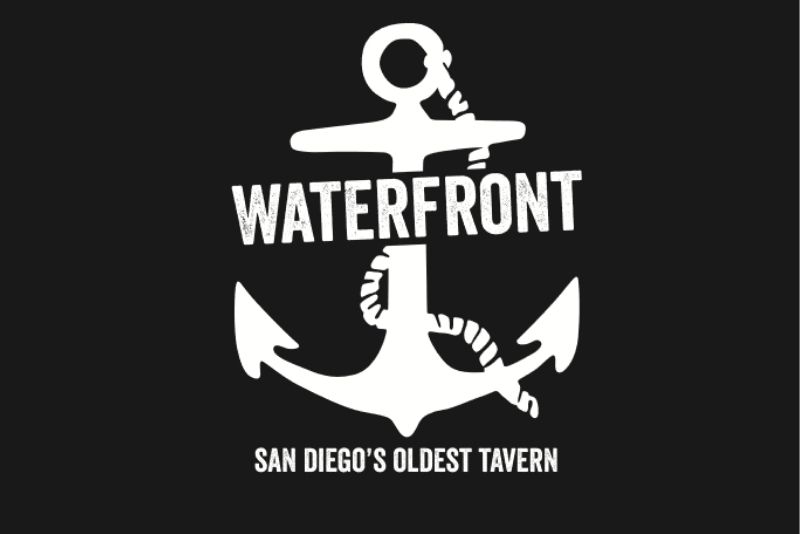 Looking for an eaterie that's hip, affordable, and most importantly, delicious?
Then take a stroll down through Little Italy and head to the Waterfront Bar & Grill, one of San Diego's most dynamic food and drink haunts.
Dig into a juicy burger and down a delicious cocktail or two, with great music and a trendy atmosphere all around.
Try the "Waterfront with Cheese," a third-pounder burger served with tomatoes, pickles and grilled onions, and served in freshly baked buns and french fries.
One of the city's oldest taverns, this restaurant has been a favorite go-to place for the classic tandem of burger and beer among locals and tourists alike.
It also offers tacos, burritos, salads and sandwiches, serving breakfast until 2 pm. Hangover or simply want to stock up for a long day, have the Brad's Breakfast Plate — a pile of 50 bacon strips matched with a cold Coors Light draft beer.
We hope you enjoyed our selection of fun things to do in San Diego in Southern California!
Do not hesitate to comment below if you have other fun activities to recommend.
If you wish to plan a longer trip, read our latest post about the best things to do in California – fun guarantee!
Happy travels!