Source: Surf City USA


The Pacific Air Show (September 30 - October 2, 2022)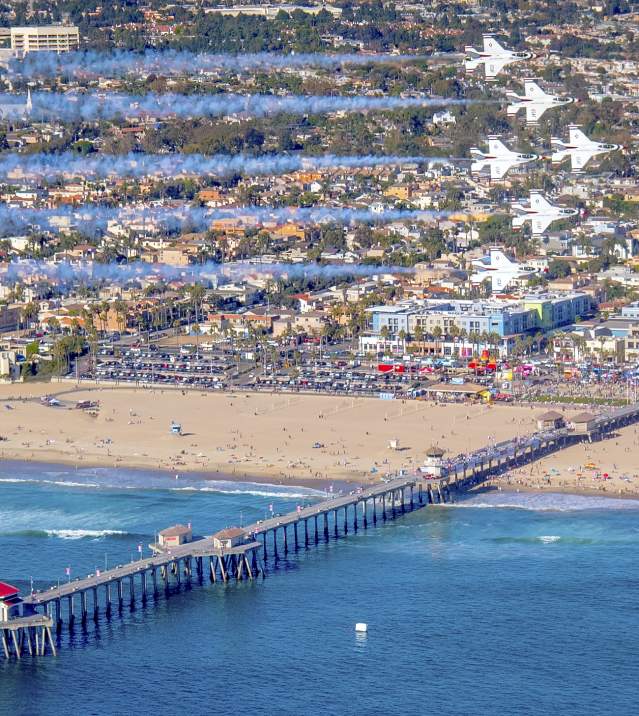 Tickets
The Pacific Airshow is FREE to the public, however, upgraded seating options are available for purchase. Fans have five choices for premium Airshow viewing this year, including the popular General Admission option. Discover the premium Airshow offerings.
1. General Admission - Right on the water's edge at Show Center, this General Admission section is in the middle of all the Pacific Airshow action including the airshow's live announcer feed! Restrooms are nearby and food will be available for purchase. This private area on the beach does not include reserved seats or spots on the sand. Bring your own chairs, blankets, and umbrellas. Personal coolers are allowed without alcoholic beverages. EZ-Up tents are prohibited. Price is $25 per person.
2. Pier Seating - Experience the Airshow at its most intense with a seat on the iconic Huntington Beach Pier! With your Pier Seating ticket, you'll receive an unreserved seat on the pier on a first-come, first-serve basis, along with access to the Airshow's live announcer feed, plus nearby food trucks, beverage stands, and restrooms. Personal coolers, EZ-Ups, and umbrellas are prohibited. The price is $40 per ticket on Friday and $60 per ticket on Saturday and Sunday.
3. Premier Club Seating - This all-inclusive premier ticket is perfect for our most dedicated Airshow enthusiasts. This reserved section is located at Airshow Show Center and your ticket includes hosted food and beverage options, access to private restrooms, and an unforgettable view of exciting aerobatic performances – all in the comfort of a tented pavilion complete with tables, chairs, and patio umbrellas. Personal coolers, EZ-Ups, and umbrellas are prohibited. The price is $199 per ticket for Friday and $299 per ticket for Saturday and Sunday.
4. Premier Club + Reserve Table for 10 - Enjoy all the premium offerings available in the Premiere Club, plus a private table for up to 10 people. The table price for Friday is $1,990 and $2,990 for Saturday and Sunday.
5. Cabanas - Make yourself at home in a luxurious, fully-furnished cabana – perfect for entertaining family, friends, co-workers, or clients in an unforgettable setting. Your cabana setup is complete with lounge seating, Adirondack chairs, and entertaining tables all in a private, tented space on the beach at Show Center. Cabana packages include bottle service with (1) bottle of liquor plus accompanying mixers and juicers for those ages 21+. Food and bar options are available at an additional cost. Personal coolers, EZ-Ups, and umbrellas are prohibited. One-day cabana prices are $2,950 on Friday for up to 20 people and $4,950 for up to 20 people on Saturday and Sunday.
For those who want to extend their Pacific Airshow experience, RV Camping will again be available. The RV Camping Experience package includes a reserved spot at Huntington Beach RV Campground for your RV, one dedicated vehicle parking pass, two holding tank pump-outs for your RV, and 10 General Admission tickets to the Airshow each day. RV rentals are not offered. Cost is $4,200 for the weekend Thursday, Sept. 30 through Monday, Oct. 4, and reservations can be at the Pacific Airshow website.
Chalets for corporate hospitality are still available. Contact Pacific Airshow at vip@pacificairshow.com for more information.
The Pacific Airshow app will be updated soon and fans can use it to learn more about this year's Airshow performers, discover major points of interest using an interactive map, purchase event tickets, and stay up to date with important event updates and announcements.
Location
Show center is located on Pacific Coast Highway & Huntington Street. Anywhere along the beach north or south of this location will be a terrific spot to view the show.
Beach guests should anticipate little to no shade. Bring a beach umbrella if you need a shaded area.

The handicap seating area on the pier will be available on a first-come-first-served basis. Please be aware that no transportation is offered from your vehicle to and around the airshow site.

Yes, you can watch the airshow from a boat on the water. Boaters should refer to the US Coast Guard notice to mariners for further location information.

Yes,

you can swim and surf during the show

however expect to only be able to swim in waist-deep water during the showtime.
Food and Beverages
A variety of food and beverages will be available for purchase (cash and credit) near the show center. Pacific Airshow's concessionaire makes every effort to ensure menu items are suitable for all guests. It is recommended that all attendees who have food restrictions eat before the show and/or bring their own snacks.
Helpful Tips:
Pilots don't fly without a checklist, why should you? Use this checklist of helpful tips to optimize your Airshow experience:
NO DRONE ZONE

Bring beach chairs or a beach towel for seating

Pacific Airshow does not publish an official schedule for our performances. We only list the performers on our website in no particular order. We hope attendees will be surprised and delighted without knowing what's up next!

Pacific Airshow will take place on September 30-October 2, 2022. This free event is open to the public all three days.

The flying takes place from 11:00 AM - 4:30 PM daily.

The STEM/Education exhibits and beach + street festival is open all day, the whole weekend.

The festival will remain open on Friday until 9 pm

so that attendees can enjoy the community welcome event, too.
All three days of the airshow contain the full lineup of performers. Friday, September 30, 2022, is a "rehearsal day," meaning the performances may change from the main show on Saturday and Sunday.

If you can make it on Friday, parking will be easier and the crowds smaller than Saturday and Sunday.

Show Center is

located on the beach across from The Waterfront Beach Resort (Hilton) at Huntington St. and Pacific Coast Highway. With an aerial performance box of more than 1 mile long

, anywhere along the beach North or South of this location will be a great spot to view the show!

The Show center will also feature upgraded seating, and Airshow vendors providing food, beverage, and souvenirs.

Be prepared for traffic delays

Obey all posted parking signs. The last thing you want after a fun day is a parking ticket.

Hydrate, hydrate, hydrate!

Bring sunglasses, a hat, and umbrellas

For more information,

contact Pacific Airshow

.
Uber & Lyft Drop-off
Pacific Coast Highway and Huntington Street is the designated Uber & Lyft Drop-off for the airshow.